The Eternal City: A History of Rome in Maps (Hardcover)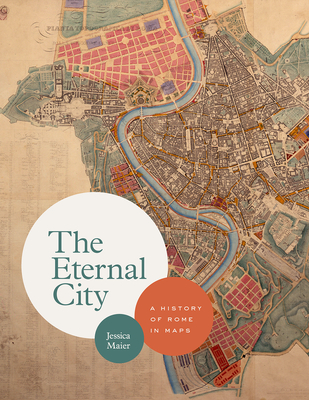 $40.00

Usually Ships in 1-5 Days
Description
---
One of the most visited places in the world, Rome attracts millions of tourists each year to walk its storied streets and see famous sites like the Colosseum, St. Peter's Basilica, and the Trevi Fountain. Yet this ancient city's allure is due as much to its rich, unbroken history as to its extraordinary array of landmarks. Countless incarnations and eras merge in the Roman cityscape. With a history spanning nearly three millennia, no other place can quite match the resilience and reinventions of the aptly nicknamed Eternal City.

In this unique and visually engaging book, Jessica Maier considers Rome through the eyes of mapmakers and artists who have managed to capture something of its essence over the centuries. Viewing the city as not one but ten "Romes," she explores how the varying maps and art reflect each era's key themes. Ranging from modest to magnificent, the images comprise singular aesthetic monuments like paintings and grand prints as well as more popular and practical items like mass-produced tourist plans, archaeological surveys, and digitizations. The most iconic and important images of the city appear alongside relatively obscure, unassuming items that have just as much to teach us about Rome's past. Through 140 full-color images and thoughtful overviews of each era, Maier provides an accessible, comprehensive look at Rome's many overlapping layers of history in this landmark volume.

The first English-language book to tell Rome's rich story through its maps, The Eternal City beautifully captures the past, present, and future of one of the most famous and enduring places on the planet.
About the Author
---
Jessica Maier is associate professor of art history at Mount Holyoke College. She is the author of Rome Measured and Imagined: Early Modern Maps of the Eternal City, also published by University of Chicago Press.
Praise For…
---
"The Ruins Lesson makes one point above all: there was no single dominant way of observing ancient ruins and portraying what remained. Jessica Maier's The Eternal City: A History of Rome in Maps provides a rich complementary account. . . . For centuries, as she shows, mapmakers and miniaturists, antiquarians and cartographers set out to do exactly what he thought impossible: to represent at least in part not only the city of Rome, but some of the ways in which it had changed over time."
— London Review of Books

"No other city has maintained the story of its past in its present quite like Rome, creating an intentional palimpsest through incessant acts of preservation, reconstruction, and cartographic visualization. Maier's lively, imaginatively organized, and accessible book displays how centuries of maps not only tell stories about the city's physical development but also show how Rome's narratives of itself—conflating eras, resituating buildings, compressing waterways—unfurled in self-mapping from antiquity to the Metro."
— Evelyn Lincoln, Brown University

"Jessica Maier's The Eternal City: A History of Rome in Maps is a luxurious volume, elegantly and enthusiastically written, and richly illustrated with 140 well-curated color images of artwork, including maps of Rome across the ages. Maier's primary aim is to explore the history of Rome through its cartography, and she contextualizes the maps within their historical, socio-cultural, religious, and political backdrops. . . . her volume invites the reader on an imaginary journey through the complex topographical, monumental, and historical layers of the Eternal City."
— The Portolan

"Beautifully produced."
— The Classical Review

"The history of Rome comes to life in this erudite, beautifully written book. Organized chronologically from Rome's early beginnings to the present, this richly detailed history of Rome is focused through the lens of maps and cartographic images. Maier has written a fascinating account for both armchair and actual travelers. The Eternal City also has much to offer to seasoned scholars who will appreciate its coherent and fluid synthesis."
— Pamela O. Long, author of Engineering the Eternal City

"The Eternal City offers the reader a vivid panorama of Rome's changing form and image over the course of more than two millennia. A rich selection of city plans and views reveals crucial shifts in representational strategies, function, and symbolic intent. The dynamic tension between Rome's complex, three-dimensional urban reality and the city's image as projected by successive generations of artists and cartographers is certain to engage a wide audience."
— John Pinto, emeritus, Princeton University

"The Eternal City is a brilliant history of Rome, focusing on how we have responded to and represented this ever-changing city. Digging down into both Rome's history and our own desires for this city, Maier has written a fascinating book that has changed the way I consider maps and history."
— A Universe in Words blog

"Each chapter combines history, urban development, and the history of mapping to assess in each period how the city changed and how contemporaries represented it—demonstrating how Rome has been constantly reimagined, reconstructed, and represented over the course of the past three millennia, both on the ground and on paper (or other media)... Highly Recommended."
— Choice

"Done very well, both in the selection and discussion of visual images and in [Maier's] considerate and humane prose style. A delight of a book."
— New York Military Affairs Symposium Review