Write Your Way In: Crafting an Unforgettable College Admissions Essay (Chicago Guides to Writing, Editing, and Publishing) (Paperback)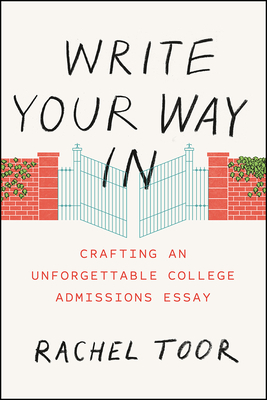 $15.00

Usually Ships in 1-5 Days
Description
---
Writing, for most of us, is bound up with anxiety. It's even worse when it feels like your whole future—or at least where you'll spend the next four years in college—is on the line. It's easy to understand why so many high school seniors put off working on their applications until the last minute or end up with a generic and clichéd essay.
The good news? You already have the "secret sauce" for crafting a compelling personal essay: your own experiences and your unique voice.
 The best essays rarely catalog how students have succeeded or achieved. Good writing shows the reader how you've struggled and describes mistakes you've made. Excellent essays express what you're fired up about, illustrate how you think, and illuminate the ways you've grown.
More than twenty million students apply to college every year; many of them look similar in terms of test scores, grades, courses taken, extracurricular activities. Admissions officers wade through piles of files. As an applicant, you need to think about what will interest an exhausted reader. What can you write that will make her argue to admit you instead of the thousands of other applicants?
A good essay will be conversational and rich in vivid details, and it could only be written by one person—you. This book will help you figure out how to find and present the best in yourself. You'll acquire some useful tools for writing well—and may even have fun—in the process.
About the Author
---
Rachel Toor is professor of creative writing at Eastern Washington University in Spokane and is a former college admissions officer at Duke University. Her books include Admissions Confidential: An Insider's Account of the Elite College Selection Process and a young adult novel about college admissions, On the Road to Find Out.
Praise For…
---
"A highly recommended work for upper teens considering college or wanting to improve their writing skills.… Toor's style is friendly, funny, and genuinely compelling, exhorting students to go deeper with their writing even (and especially) when the stakes are high. Toor doesn't just tell readers to do better, she lays out useful tricks for how to get it done, interspersing her practical advice with well-selected supporting quotes from various writers."
— School Library Journal

"Toor's book is one of the best I have read on this topic: lively, humorous, and engaging. She does more than help students write an effective college essay; she challenges them to create a personal statement that reveals the unique and vital elements of their character. This book could be used as a guide to help all students—not just college applicants—write a better essay."
— Stephen J. Handel, associate vice president-undergraduate admissions for the University of California System

"Write Your Way In doesn't just offer expert advice on composing an effective college admissions essay. It's also a thoughtful, even inspirational, guide to the arduous craft of writing well, by someone who herself writes very well indeed. Every aspiring writer can learn from it."
— Daniel Golden, author of The Price of Admission