American Slavery: A Very Short Introduction (Very Short Introductions) (Paperback)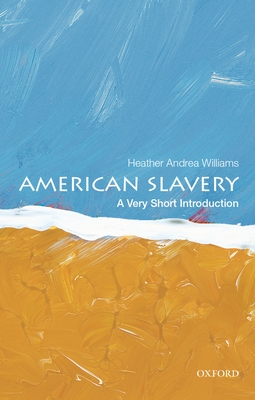 $12.99

Usually Ships in 1-5 Days
Description
---
Europeans, Africans, and American Indians practiced slavery long before the first purchase of a captive African by a white land-owner in the American colonies; that, however, is the image of slavery most prevalent in the minds of Americans today. This Very Short Introduction begins with the Portuguese capture of Africans in the 1400s and traces the development of American slavery until its abolition following the Civil War. Historian Heather Andrea Williams draws upon the rich recent scholarship of numerous highly-regarded academics as well as an analysis of primary documents to explore the history of slavery and its effects on the American colonies and later the United States of America. Williams examines legislation that differentiated American Indians and Africans from Europeans as the ideology of white supremacy flourished and became an ingrained feature of the society. These laws reflected the contradiction of America's moral and philosophical ideology that valorized freedom on one hand and justified the enslavement of a population deemed inferior on another. She explores the tense and often violent relationships between the enslaved and the enslavers, and between abolitionists and pro-slavery advocates as those who benefited from the institution fought to maintain and exert their power. Williams is attentive to the daily labors that enslaved people performed, reminding readers that slavery was a system of forced labor with economic benefits that produced wealth for a new nation, all the while leaving an indelible mark on its history. About the Series:
Oxford's Very Short Introductions series offers concise and original introductions to a wide range of subjects--from Islam to Sociology, Politics to Classics, Literary Theory to History, and Archaeology to the Bible. Not simply a textbook of definitions, each volume in this series provides trenchant and provocative--yet always balanced and complete--discussions of the central issues in a given discipline or field. Every Very Short Introduction gives a readable evolution of the subject in question, demonstrating how the subject has developed and how it has influenced society. Eventually, the series will encompass every major academic discipline, offering all students an accessible and abundant reference library. Whatever the area of study that one deems important or appealing, whatever the topic that fascinates the general reader, the Very Short Introductions series has a handy and affordable guide that will likely prove indispensable.
About the Author
---
Heather Andrea Williams is Presidential Professor of Africana Studies at the University of Pennsylvania and the author of Help Me to Find My People: The African American Search for Family Lost in Slavery, and Self-Taught: African American Education in Slavery and Freedom.