Singled Out: How Two Million British Women Survived Without Men After the First World War (Paperback)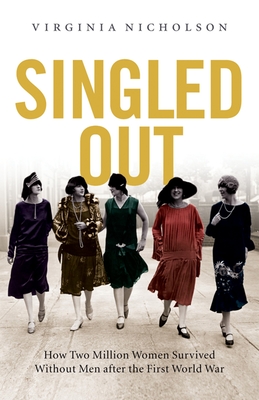 for information about purchasing this book, please contact orders@bookpassage.com
Description
---
Almost three-quarters of a million British soldiers lost their lives during the First World War, and many more were incapacitated by their wounds, leaving behind a generation of women who, raised to see marriage as the crown and joy of woman's life, suddenly discovered that they were left without an escort to life's great feast.
Drawing upon a wealth of moving memoirs, Singled Out tells the inspiring stories of these women: the student weeping for a lost world as the Armistice bells pealed, the socialite who dedicated her life to resurrecting the ancient past after her soldier love was killed, the Bradford mill girl whose campaign to better the lot of the War spinsters was to make her a public figure--and many others who, deprived of their traditional roles, reinvented themselves into something better. Tracing their fates, Nicholson shows that these women did indeed harbor secret sadness, and many of them yearned for the comforts forever denied them--physical intimacy, the closeness of a loving relationship, and children. Some just endured, but others challenged the conventions, fought the system, and found fulfillment outside of marriage. From the mill-girl turned activist to the debutante turned archeologist, from the first woman stockbroker to the business girls and the Miss Jean Brodies, this book memorializes a generation of young women who were forced, by four of the bloodiest years in human history, to stop depending on men for their income, their identity, and their future happiness. Indeed, Singled Out pays homage to this remarkable generation of women who, changed by war, in turn would change society.

About the Author
---
Virginia Nicholson studied at Cambridge University and lived in France and Italy, then worked as a documentary researcher for BBC Television. Her books include the acclaimed social history Among the Bohemians--Experiments in Living 1900-1939. As a granddaughter of Vanessa Bell, grandniece of Virginia Woolf, and daughter of Quentin Bell, she garners major media attention with Bloomsbury aficionados.