The Hidden History of Coined Words (Hardcover)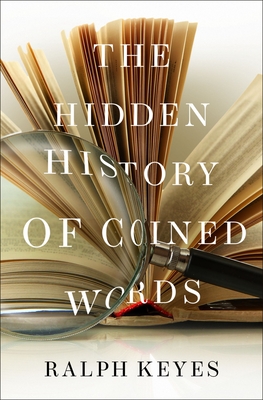 $29.95

Usually Ships in 1-5 Days
Description
---
Successful word-coinages--those that stay in currency for a good long time--tend to conceal their beginnings. We take them at face value and rarely when and where they were first minted. Engaging, illuminating, and authoritative, Ralph Keyes's The Hidden History of Coined Words explores the etymological underworld of terms and expressions and uncovers plenty of hidden gems. He also finds some fascinating patterns, such as that successful neologisms are as likely to be created by chance as by design. A remarkable number of new words were coined whimsically, originally intended to troll or taunt. Knickers, for example, resulted from a hoax; big bang from an insult. Casual wisecracking produced software, crowdsource, and blog. More than a few resulted from happy accidents, such as typos, mistranslations, and mishearing (bigly and buttonhole), or from being taken entirely out of context (robotics). Neologizers (a Thomas Jefferson coinage) include not just scholars and writers but cartoonists, columnists, children's book authors. Wimp originated with a book series, as did goop, and nerd from a book by Dr. Seuss. Coinages are often contested, controversy swirling around such terms as gonzo, mojo, and booty call. Keyes considers all contenders, while also leading us through the fray between new word partisans, and those who resist them strenuously. He concludes
with advice about how to make your own successful coinage. The Hidden History of Coined Words will appeal not just to word mavens but history buffs, trivia contesters, and anyone who loves the immersive power of language.

About the Author
---
Ralph Keyes's seventeen books include The Post-Truth Era, which was cited by Oxford Dictionaries as the primary source of post-truth, their 2016 "Word of the Year." Keyes also wrote Is There Life After High School?, which inspired a Broadway musical. His other books include Euphemania, The Courage to Write, and Chancing It, a New York Times Notable Book of the year. Keyes has appeared on Oprah Winfrey, The Today Show, The Tonight Show, ABC World News Tonight, and 20/20. He's been interviewed on NPR's "All Things Considered," "On the Media," and "Fresh Air." His articles have been published by GQ, Good Housekeeping, Esquire, Glamour, Newsweek, Parade, Sports Illustrated, Harper's, and The American Scholar, where he also wrote a column on language. Several essays by him have been deemed "Notable" by the annual compilation of Best American Essays. Keyes lives in Portland, Oregon, with his wife, Muriel.