Murder In The Cathedral: Verse Drama (Paperback)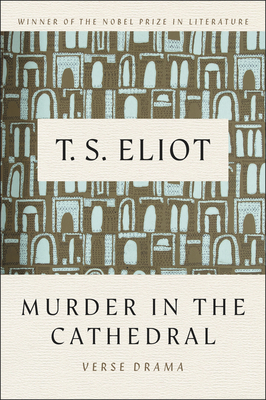 $9.99

Usually Ships in 1-5 Days
Description
---
T. S. Eliot's most famous drama, a retelling of the murder of the archbishop of Canterbury
Murder in the Cathedral, written for the Canterbury Festival in 1935, was one of T. S. Eliot's first dramatic achievements, and it remains one of the great plays of the century. It takes as its subject matter the martyrdom of Thomas Becket, Archbishop of Canterbury, depicting the events that led to his assassination, in his own cathedral church, by the knights of Henry II in 1170. Like Greek drama, the play's theme and form are rooted in religion, ritual purgation and renewal, and it was this return to the earliest sources of drama that brought poetry triumphantly back to the English stage at the time.
"The theatre is enriched by this poetic play of grave beauty and momentous decision." —The New York Times 
About the Author
---
THOMAS STEARNS ELIOT was born in St Louis, Missouri, in 1888. He moved to England in 1914 and published his first book of poems in 1917. He received the Nobel Prize in Literature in 1948. Eliot died in 1965.
Praise For…
---
"The theatre as well as the church is enriched by this poetic play of grave beauty and momentous decision." —The New York Times "This play comes closer to perfection than anything that Eliot has written." —New York Herald Tribune Books "Within its limits the play is a masterpiece...Mr. Eliot has written no better poem than this and none which seems simpler." —The Nation "Mr. T. S. Eliot...has won for religious drama a fresh hearing...Not since 'St. Joan' has there been any play on the English stage in which such tremendous issues as this have been treated with such mastery of thought, as well as dramatic power." —Christian Century "Eliot has found himself anew as a poet, only with an added ease, lucidity and objectiveness." —Spectator —