Count Us In: Growing Up with Down Syndrome (Paperback)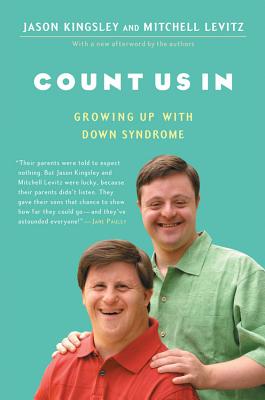 $14.95

Usually Ships in 1-5 Days
Description
---
At ages nineteen and twenty-two, respectively, Jason Kingsley and Mitchell Levitz shared their innermost thoughts, feelings, hopes, and dreams, their lifelong friendship—and their experiences growing up with Down syndrome. Their frank discussion of what mattered most in their lives—careers, friendships, school, sex, marriage, finances, politics, and independence—earned Count Us In numerous national awards, including the EDI Award from the National Easter Seal Society. More important, their wit, intelligence, candor, and charm made a powerful and inspirational statement about the full potential of people with developmental disabilities, challenging prevailing stereotypes.

Now, thirteen years later, the authors discuss their lives since then—milestones and challenges, developments expected and unexpected—in a new afterword.
About the Author
---
JASON KINGSLEY graduated from high school in 1994 and in 1997 from Maplebrook School, a postsecondary transitional program. He has received the Joseph P. Kennedy Jr. Foundation Families Award, among many others recognizing his contribution toward better understanding and acceptance of people with developmental disabilities. He lives in Hartsdale, New York.
MITCHELL LEVITZ graduated from high school in 1991 and is now a consumer issues specialist at the Westchester Institute for Human Development. He also serves on the board of directors of the National Down Syndrome Society. In 2004 Mitchell received the Daniel Piper Self-Advocacy Award. He lives in Cortlandt Manor, New York.
Praise For…
---
PRAISE FOR COUNT US IN

"Their parents were told to expect nothing. But Jason Kingsley and Mitchell Levitz were lucky, because their parents didn't listen. They gave their sons that chance to show how far they could go—and they've astounded everyone! Count Us In tells their story."—JANE PAULEY —