When Your Child Is Sick: A Guide to Navigating the Practical and Emotional Challenges of Caring for a Child Who Is Very Ill (Paperback)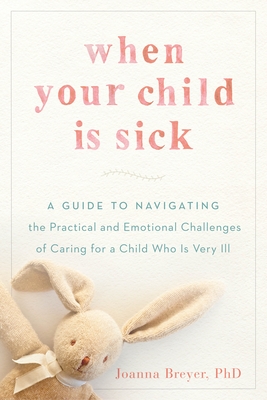 $16.00
Email or call for price
Description
---
An invaluable reference for parents of sick or hospitalized children by an experienced psychosocial counselor.

To many parents, it is hard to imagine a more upsetting reality than one where their child is hospitalized, severely sick, or terminally ill. In When Your Child is Sick, psychosocial counselor Joanna Breyer distills decades of experience working with sick children and their families into a comprehensive guide for navigating the uncharted and frightening terrain. She provides expert advice to guide them through the hospital setting, at-home care, and long-term outcomes.

Breyer's actionable techniques and direct advice will help parents feel more in-control of a circumstance that has upended their life. She alerts parents to key personnel in the hospital, gives dialogue prompts to help parents ask for the help they need, addresses the needs of their other children at home, offers advice on how to best utilize friends and family who want to help, includes stories from other families who have been there, and teaches coping techniques to help both parents and children weather the stress of prolonged illness and even death.

When Your Child is Sick is a valuable guide to managing the myriad practical and emotional complications of an impossible situation.
About the Author
---
Joanna Breyer was educated at Oxford and Harvard where she got her psychology doctoral degree in 1983. As a psychologist she worked with children with cancer and their families for over 25 years at Dana Farber Cancer Institute (DFCI) and Children's Hospital Boston. She worked in the David B. Perini Quality of Life Clinic for Survivors of Childhood Cancer for over 10 years. She is married to Supreme Court Associate Justice Stephen Breyer.
Praise For…
---
NFAA Book Award Winner -- Gold Award

"Joanna Breyer balances profound compassion with pragmatism to provide an extraordinarily valuable guide to the management and care of sick children. By using real examples and clinical vignettes, Breyer pierces through some the most difficult barriers in medicine, and helps us navigate through complex and forbidding landscapes. Written in the spirit of Jimmie Holland, the pioneering psychiatrist who studied the minds of cancer patients, Breyer's book focuses its attention on children with cancer and other illnesses. This book should be compulsory reading for anyone facing these terrifying conundrums and life-altering decisions."
- Siddhartha Mukherjee, author of The Emperor of All Maladies: A Biography of Cancer, winner of the 2011 Pulitzer Prize in general nonfiction, and The Laws of Medicine, assistant professor of medicine at Columbia University 

"When Your Child Is Sick is a wonder. Though I've known and admired Dr. Breyer throughout her tenure at Dana-Farber/Boston Children's, I stand in awe at how  comprehensive this book is in guiding parents through maintaining confidence and alleviating fear during what can be an extremely challenging experience.  Breyer is a former senior member of a team of experts that has vast experience with helping families trapped in the crisis of profound childhood illness. A great clinician, she is above all an inspired teacher who provides a treasure trove of advice for those facing the greatest fear parents have—that of losing a child."  
-David G. Nathan, President Emeritus, Dana-Farber Cancer Institute, Physician-in-Chief Emeritus, Boston Children's Hospital, Robert A. Stranahan Distinguished Professor of Pediatrics, Harvard Medical School

"Based on her extensive experience helping children with cancer and serious illnesses and their families, Dr. Breyer has written this comprehensive, innovative, and useful book.  She describes, in detail, the trajectory of serious illness in children and the stressors that they and their families face.  Using examples from her own practice as well as from others' clinical and research work, Dr. Breyer provides a wealth of practical and effective strategies to help them cope during and after treatment and when treatment fails. Not a "one-size-fits-all" approach, she emphasizes the role of individual differences, experiences, styles, personalities, and preferences.  In addition, there is a listing of various resources to help parents navigate treatment and living with childhood cancer.  When a child is diagnosed with a serious medical condition, parents often tell us that there is no roadmap or guidebook to tell them what to expect and how best to help their child – this is that book."
-Mary Jo Kupst, Ph.D., Emerita Professor of Pediatrics, Medical College of Wisconsin

"Joanna Breyer's compassionate, informative, and clear-eyed guide lights the way for parents of children with cancer. Drawing upon her 20 years as a pediatric psychologist at the Dana-Farber Cancer Institute, Ms. Breyer describes the many situations such a parent might face and considers the various ways a parent might respond to a child's illness. In so doing, she provides comfort during a confusing, shocking, and despairing time.  Joanna Breyer's counsel for parents who have lost a child—that the death of a child is nearly unbearable, but that they will survive and emerge stronger—is exactly on point, as I know all too well.  This is a handbook for life events we don't ever want to consider.  I am grateful that Joanna Breyer has considered them so thoughtfully."
-Nancy Goodman, Executive Director, Kids v Cancer

 "This is definitely the book to read if you have a sick child. The author helps families navigate the complex course of pediatric illness by describing evidence-based psychological interventions that alleviate suffering in the patient and his family. This book is also an excellent guide for pediatric medical staff, who will learn working tools that improve the quality of their work and the quality of their patients´ lives. I recommend it without hesitation and wish I´d had it earlier in my professional career."
-Maria Die Trill, Ph.D., President, International Psycho-Oncology Society

"An incredibly important contribution for families with a child who has a serious illness, especially a malignancy. When Your Child Is Sick offers a rare combination of evidence-based information and practical suggestions for parents and children. Joanna's experience and wisdom helping families deal with the issues posed by serious childhood illness is best viewed through the detailed case examples provided. The list of resources and online support provided in the appendix is incredibly exhaustive and useful. This book empowers parents and children to become active engaged members of their care team which will benefit everyone."
—Dr. Michael Yogman, Chief, Division of Ambulatory Pediatrics, Mt. Auburn Hospital, Harvard Medical School

"A book I wish I had read in medical school. Here is wisdom about mortality and the human condition without pretense or posturing. Here is a selfless portrait of a vocation."
—Alan A. Stone, MD, Psychiatric Times

"[Breyer] proves to be the expert friend and advocate everyone needs: informative, steady, sympathetic, and—if treatment fails—unflinching at the prospect of loss."
—Harvard Magazine