A Thoroughly Unhelpful History of Australian Sport (Paperback)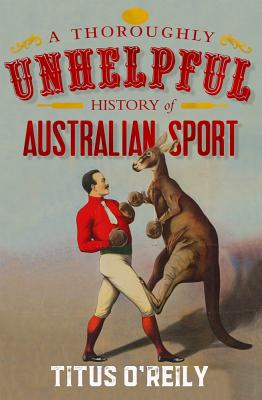 $32.95
Email or call for price
Description
---
When it comes to sport, Australians are mad. Completely, irrationally insane. It's the closest thing we have to a culture. From Don Bradman's singular focus to Steven Bradbury's heroic not falling over, sport has shaped our sense of self.

But how did we get here? Part history, part social commentary and a lot of nonsense, Titus O'Reily, Australia's least insightful sports writer, explains.

Covering Australian Rules, League, Union, soccer, cricket, the Olympics and much more, Titus tackles the big topics, like:

· How not to cheat the salary cap
· The importance of kicking people in the shins
· The many shortcomings of the English

Titus takes you through the characters, the pub meetings, the endless acronyms, the corruption and the alarming number of footballers caught urinating in public.

Sport is important – gloriously stupid, but important. To understand Australia you must understand its sporting history. With this guide you sort of, kind of, will.
About the Author
---
Titus O'Reily is a writer and broadcaster. He was born in Melbourne and raised by the Sisters of Collective Misery, a kindly but sombre order who placed an emphasis on sport above all other things, including religion.Upon returning to Australia, Titus turned to writing about sport, carving out a reputation for inaccuracy and being difficult to work with. Titus's unique take on sport has been hailed by some of the most respected figures in sport as 'awful', 'childish' and 'barely comprehensible'. At the age of eight, Titus set off from Melbourne for London in a rowboat containing only himself and a positive attitude, arriving just two months later thanks to a powerful stroke and favourable currents. In London, Titus developed a love of drinking, writing and ice skating, the last being something he did professionally across Europe for almost a decade.