Alone Against the North: An Expedition into the Unknown (Paperback)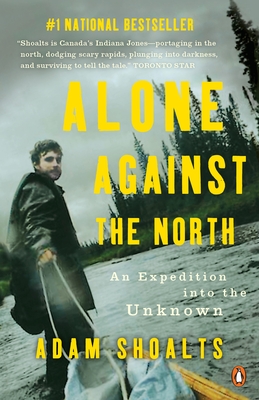 $16.00
Email or call for price
Description
---
Winner of the Legislative Assembly of Ontario's 2016 Young Authors Award 
Winner of the 2017 Louise de Kiriline Award for Nonfiction

Adam Shoalts was no stranger to the wilderness. He had hacked his way through jungles, stared down bears and climbed mountains. But, one spot on the map called out to him irresistibly. Cutting through the forbidding landscape of the Hudson Bay Lowlands is a river no hunter, no explorer, has left any record of paddling. It was this river that Shoalts was obsessively determined to explore.    

What Shoalts discovered as he paddled downriver appeared in no satellite imagery or map: a series of waterfalls that could easily have killed him. Just as astonishing was the media reaction when he got back to civilization. He was crowned "Canada's Indiana Jones" and was feted by the Royal Canadian Geographical Society and congratulated by the governor general. Shoalts had proved that the world is bigger than we think.         

Gripping and often poetic, Alone Against the North is a classic adventure story of single-minded obsession, physical hardship, and the restless sense of wonder that every explorer has in common. Shoalts's story makes it clear that the world can become known only by setting out into the unfamiliar, where every step is different from the one before and something you may never have imagined lies around the next curve in the river.
About the Author
---
ADAM SHOALTS has been called one of Canada's greatest living explorers and in 2018 was named an Explorer-in-Residence of the Royal Canadian Geographical Society. He is also a historian, archaeologist, and geographer, and his book Alone Against the North was a #1 national bestseller. His books, A History of Canada in Ten Maps and The Whisper on the Night Wind, were also national bestsellers. Shoalts' adventurous career has included discovering waterfalls, mapping rivers, numerous archaeological digs, tracking down elusive flora and fauna, and in 2017 completing a nearly 4,000 km solo journey across Canada's Arctic. His expeditions have been featured in media around the world, including the BBC, CNN, MSN, CTV, CBC, TVO, Global, Nature, and The Guardian. In 2020, Canadian Geographic included him on their list of the most influential explorers in Canada's history.
Praise For…
---
Winner of the Legislative Assembly of Ontario's 2016 Young Authors Award 
Winner of the 2017 Louise de Kiriline Award for Nonfiction

"Rare insight into the heart and mind of an explorer, and the insatiable hunger for the unknown that both inspires and drives one to the edge. Adam Shoalts, twenty-first-century explorer, calmly describes the things he has endured that would drive most people to despair, or even madness."
—Col. Chris Hadfield, astronaut, author, space station commander
 
"Adam Shoalts is Canada's Indiana Jones—portaging in the north, dodging scary rapids, plunging into darkness, and surviving to tell the tale."
—Toronto Star
  
"Adam Shoalts has captured the world's imagination with his discovery of uncharted waterfalls."
—The Royal Canadian Geographical Society
  
"Move over Jacques Cartier, Christopher Columbus, and Sir Francis Drake—Adam Shoalts is this century's explorer."
—The Hamilton Spectator
 
 "Doing things the easy way has never been my style. There is no adventure in that! In Alone Against the North, Adam Shoalts does nothing the easy way. He travels to places no one has ever seen before and as a result comes back with an amazing story. As gripping to read as it must've been exciting to live!"
—Les Stroud, Survivorman

"Explorer Adam Shoalts's remarkable solo foray into the quietly dangerous and mysterious Hudson Bay Lowlands is the kind of incredible effort that fosters legends."
—The Winnipeg Free Press
 
"Anyone who thinks exploration is dead should read this book (Alone Against the North)." 
—John Geiger, author, CEO of the Royal Canadian Geographical Society

"While the book is a nail-biting chronicle of polar-bear encounters, brutal swarms of black flies and surprise tumbles down waterfalls, Shoalts also vividly describes an area of the country most of us will never witness."                                                                                        
 —Metro (Toronto)
 
"His narrative is both humourous and honest, and at times intensely gripping." 
—St. Catharines Standard  

 "Keeping up with the Kardashian's? Give me a break. Just try keeping up with this guy…"
—Cabin14.ca Blog

"It (Alone Against the North) is a story of brutal perseverance and stamina which few adventurers could equal." 
—Life in Quebec Magazine
 
"Shoalts is a fearless adventurer…Alone Against the North is a rip-roaring yarn." 
—The Great Canadian Bucket List

"My first impression of Adam Shoalts, author of Alone Against the North, was that he was a wacko…But after delving into his remarkable, page-turner of a book about canoeing Canada's north, I realized that Shoalts is…a highly intelligent individual."
—Nicolas Ross, What's Not to Hike? blog

"Shoalts's love of nature, cool professionalism, and almost archaically romantic spirit draw us into his adventures….Shoalts is a knowledgeable and observant guide." 
—Quill and Quire