My Meteorite: Or, Without the Random There Can Be No New Thing (Paperback)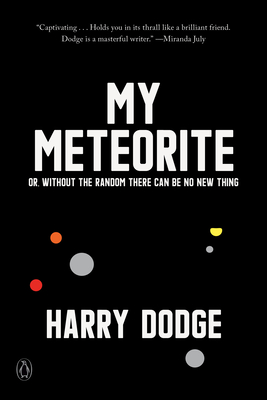 Description
---

A New York Times Book Review Editors' Choice
One of LitHub's Most Anticipated Books of 2020
An expansive, radiant, and genre-defying investigation into bonding—and how we are shaped by forces we cannot fully know
 
Is love a force akin to gravity? A kind of invisible fabric which enables communications through space and time? Artist Harry Dodge finds himself contemplating such questions as his father declines from dementia and he rekindles a bewildering but powerful relationship with his birth mother. A meteorite Dodge orders on eBay becomes a mysterious catalyst for a reckoning with the vital forces of matter, the nature of consciousness, and the bafflements of belonging.
 
Structured around a series of formative, formidable coincidences in Dodge's life, My Meteorite journeys with stylistic bravura from Barthes to Blade Runner, from punk to Pale Fire. It is a wild, incandescent book that creates a literary universe of its own. Blending the personal and the philosophical, the raw and the surreal, the transgressive and the heartbreaking, Harry Dodge revitalizes our world, illuminating the magic just under the surface of daily life.
About the Author
---
Harry Dodge is a writer and visual artist whose work has been exhibited at venues nationally and internationally. His solo and collaborative work is held in numerous institutions, such as the Museum of Modern Art, NY; Hammer Museum, LA; and Museum of Contemporary Art, LA. In 2017 Dodge was awarded a Guggenheim Foundation fellowship. He lives with his family in Los Angeles.
Praise For…
---
"Messy and exhilirating . . . there remains something miraculous about Dodge's ability to find this 'world-affirming interconnectedness' in everything he witnesses." —TLS

"Reading My Meteorite is to bear witness to an individual whose heart is at once so hungry and so full that it seems constantly on the edge of bursting." —AV Club

"My Meteorite is energetic, challenging, surprising, and brilliant." —BookRiot

"These are fascinating thoughts, and there are questions to make us think again on every page. [Dodge] also has a gift for storytelling . . . throughout there's a feeling of a singular intelligence, driven by a set of related questions about the relationship between matter and spirit, or empiricism and the occult." —The Guardian

"Astute…Dodge's memoir…entertains and enlightens." —Publishers Weekly

"Transcendent."  —Booklist

"The writing [is] . . . viciously, animatedly good. . . Dodge's mystical intimacy quest feeds back steadily and sustains." —Bookforum

"Dodge has offered a new, luminous angle on autobiography that not only traces where the body has been--but also what it loves, how it thinks and feels within the potent intellectual and physical detritus of its lived world. Reading this book is like being bathed in the bright, gritty sear of a comet's tail. But the mark it leaves is stunningly terrestrial: a thumbprint of a mind on paper--singular in erudition, hurtfully wonder-struck, and true." —Ocean Vuong

 "Harry Dodge's voice and vision are singular, but his genius is for revealing how each of us is plural. This is a beautiful record of his loves and deaths and ways of making, but even its most intimate moments open out, become portals to other possible worlds. No genre can hold this book. It is a work of tender force, prying open every category. My Meteorite is breathtaking—or breathgiving, because the whole thing oxygenates discourse, makes me feel alive." —Ben Lerner

"Captivating. My Meteorite holds you in its thrall like a brilliant friend—so vulnerable, hot, funny, and casually weird that you don't notice the profundity until you're already walloped by it. Dodge juxtaposes the tenderest of human details with hungry, brain-splitting inquiries into the very premise of life, and these shifts in scale are incredibly moving and provocative. Don't forget to notice that Dodge is a masterful writer; that's how he pulls this whole thing off." —Miranda July

"A thought-filled, deeply moving and personal book. The past, present, and future collide like Harry's meteorite to earth. Life is tenderly felt, questioned, and affirmed within the pages of this exquisite prose." —Catherine Opie

"Riveting. A freewheeling, feral romp through the wilderness of consciousness and connection!" —Eula Biss
 
"Harry Dodge's fierce intelligence and love permeates and shapes every line of this book which is redolent with loss, desire, and truth. Expansive in scope and intimate in detail, Dodge's account of becoming a self while living in a world defined by community, lifts the spirit as it feeds the mind. A major achievement." —Hilton Als
 
"Harry's book is 'outside' the book. Why should you read it? You're out there too. I could say this is the smartest memoir I ever read but that's pulling us back to the safe place. We are animals, machines, friends, reading things and we've never been talked to this way before. Seductive and wise, My Meteorite is the conversation you want." —Eileen Myles

"Picasso wrote meteoric poetry and now Harry Dodge has written a brilliant autobiographical manifesto that takes the accidents of death and birth and remixes them into a whirlwind unlike any book I can remember reading. Dodge stares into the eye of synchronicity and turns magical thinking into a new method of being realistic about how strange and open-ended the world actually is. Reading My Meteorite, I feel re-enchanted, all over again, with how miraculous an enterprise writing can be, when it is engaged with the degree of passion, inquisitiveness, and arrowy verbal virtuosity that Dodge brings to the game. Feel your whole body tingle as you read this blazing ode to randomness, to a cosmos where every particle and wave has a say in the matter." —Wayne Koestenbaum

"Astute, tender, epistemic, poetically stunning—every sentence in this book is a work of art." —The Rumpus