Respect: Everything a Guy Needs to Know About Sex, Love, and Consent (Paperback)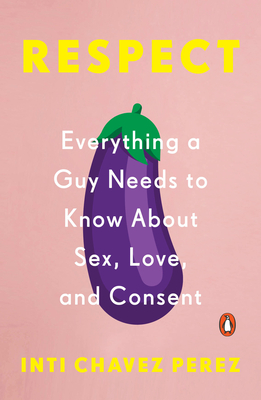 $16.00

Usually Ships in 1-5 Days
Description
---
"A straightforward, accessible guide to help young men navigate sex, relationships, consent, gender identity, sexual orientation, sexual health and more." —USA Today

An all-encompassing guide to help guys navigate sex, relationships, and consent in the post-#MeToo world.

The world has changed, and the revelations of the #MeToo movement have raised serious questions about how men are raised to understand consent and their own sexuality. Respect is the first guide to sexual health and relationships built around consent. Inti Chavez Perez draws on his vast experience as a sex educator to lay out how to build positive, respectful relationships with friends and partners, and how consent factors in at every stage from introducing yourself to having healthy sexual relationships with others, all with the same frankness that guys have talking about sex with their friends. From gender identity and sexual orientation to body image and sexual health and more, Respect tells you everything you should know, and everything you would want to know—a book for guys to learn from and then go back to.
About the Author
---
Inti Chavez Perez is a writer and sex educator from Gothenburg, Sweden. He left a career as a journalist to focus full-time on issues concerning equality, sex, and sexuality. He regularly teaches sex education to teenagers in schools, as well as lecturing on education to midwives, teachers and government officials. Chavez Perez has been appointed by the Swedish Government as an expert on matters regarding the sexual violence of boys, lgbtq+ issues, honor violence, and other issues, in addition to serving as a member of their advisory council for The Swedish Agency for Youth and Civil Society.
Praise For…
---
"[Respect] fills a gap in the literature for young men navigating adolescence in an era that may seem like a minefield of potential missteps. [It is] a rejection of the tired narrative of the conquest and a new way of thinking about what it means to have the best of everything–with or without a partner." —Time

"While we're still in dire need of more resources for those who identify as men looking to practice good consent, writer and sex educator Inti Chavez Perez's new book RESPECT: Everything a Guy Needs to Know About Sex, Love, and Consent is a great start. It includes a wide range of things young men should know about sex and relationships, including how to practice consent." —Bustle

"Thorough, refreshing and fun." —The Chicago Tribune

"A straightforward, accessible guide to help young men navigate sex, relationships, consent, gender identity, sexual orientation, sexual health and more." —USA Today

"This is a book destined to be passed around." —Kirkus Reviews

"For any man (or woman) with questions about sex that they were too uncomfortable to ask, Chavez Perez's authoritative book will have the answer."—Publishers Weekly (Starred Review)

"In this accessible and blunt guide to relationships, Swedish author and sex educator Chavez Perez educates men on the ins and outs of intimacy….[Respect] is a perfect introduction to a healthy male sex life. While it may be most beneficial for young adults, adults also have much to gain from revisiting the basics of sex ed, especially in the #MeToo era."—Booklist