The Lotus and the Storm: A Novel (Paperback)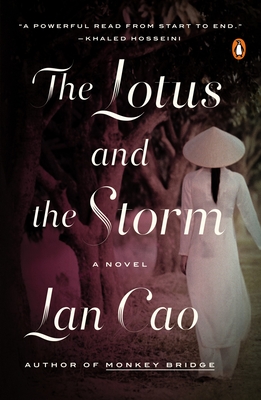 $19.00
Email or call for price
Description
---
A lyrical novel of love and betrayal in the aftermath of the fall of Saigon—from the author of Monkey Bridge

A singular work of witness, inspiration, and courage, The Lotus and the Storm marks the welcome return of Lan Cao's pitch-perfect voice, telling the story only she can tell.

Four decades after the war, Vietnam's flavors of clove and cinnamon have been re-created by a close-knit refugee community in a Virginia suburb. But the lives of Minh and Mai, father and daughter, are haunted by ghosts, secrets, and the loss of their country. During the disastrous last days in Saigon, in a whirl of military signals and helicopter evacuations, Mai never had a chance to say goodbye to so many people who meant so much to her. What happened to them? How will Mai cope with the trauma of war—and will the thay phap, a Vietnamese spirit exorcist, be able to heal her?
About the Author
---
Lan Cao is the author of Monkey Bridge. She lives in Southern California.
Praise For…
---
Praise for The Lotus and the Storm

"Written with acute psychological insight and poetic flair, this deeply moving novel illuminates the ravages of war as experienced by a South Vietnamese family. In a rewarding follow-up to her well-received debut, Monkey Bridge, the author returns to the conflict that shaped her own destiny before she was airlifted from her native Saigon to live in Virginia. Here, she shows what happens to a family of four—a South Vietnamese airborne commander, his beautiful wife and their two young daughters—as the war challenges loyalties with betrayals. . . . A novel that humanizes the war in a way that body counts and political analyses never will."
—Kirkus Reviews (starred review)

"For all that has been written about the Vietnam War, little has come from the perspective of the South Vietnamese whose lives were shattered in the conflict. Cao looks to rectify that imbalance in this complex tale of a father and daughter who fled to America, forever marked by the war and its aftermath. . . . Evocative and elegiac, The Lotus and the Storm is a stunning accomplishment."
—Booklist (starred review)

"It is when she describes moments of surprising intimacy that Cao shines. . . . She chronicles her characters' lives with clarity and suspense."
—Publishers Weekly

"Dazzlingly, Lan Cao captures Vietnam's dichotomy as both an enchanting realm and a place of carnage. . . . The Lotus and the Storm is both epic and intimate. . . . offering a rarely discussed perspective on the Vietnam War."
—Shelf Awareness

"A novel about reconciliation, and about that generation of Vietnamese for whom the future supersedes the past . . . an impassioned and powerful attempt to understand a chapter of history."
—Bookpage

"The Lotus and the Storm is part beautiful family saga, part coming-of-age story, part love story, but above all a searing indictment of the American campaign in Vietnam and its incalculable toll on generations past and future. A powerful read from start to end."
—Khaled Hosseini, author of And the Mountains Echoed and The Kite Runner

"A profoundly moving novel about the shattering effects of war on a young girl, her family, and her country. In sensuous and searing detail, Lan Cao brings Saigon's past vividly to life through the eyes of her child narrator, Mai, following the girl and her father halfway around the world, to a suburb in Virginia, where forty years later, Mai's trauma unravels. In this fractured world where old wars, loves, and losses live on, The Lotus and the Storm is a passionate testament to the truth that the past is the present—inseparable, inescapable, enduring."
—Ruth Ozeki, author of A Tale for the Time Being

"A heartwrenching and heartwarming epic about war and love, hurt and healing, losing and rediscovering homelands. Through the mesmerizing voices of a Vietnamese-born father and his daughter resettled in Virginia's 'Little Saigon' after the fall of Saigon, Lan Cao dramatizes landmark battles in the Vietnam War and the toll such battles take on winners and losers. The Lotus and the Storm establishes Lan Cao as a world-class writer."
—Bharati Mukherjee, author of Jasmine and The Middleman and Other Stories

"Lan Cao is not only one of the finest of the American writers who sprang from and profoundly understand the war in Vietnam and the Vietnamese diaspora, but also one of our finest American writers, period. The Lotus and the Storm is a brilliant novel that illuminates the human condition shared by us all."
—Robert Olen Butler, Pulitzer Prize–winning author of A Good Scent from a Strange Mountain