Supreme Court Decisions (Penguin Civic Classics) (Paperback)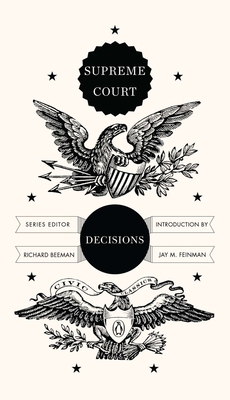 $15.00

Usually Ships in 1-5 Days
Other Books in Series
This is book number 6 in the Penguin Civic Classics series.
Description
---
A selection of the landmark Supreme Court decisions that have shaped American society

Penguin presents a series of six portable, accessible, and—above all—essential reads from American political history, selected by leading scholars. Series editor Richard Beeman, author of The Penguin Guide to the U.S. Constitution, draws together the great texts of American civic life, including the founding documents, pivotal historical speeches, and important Supreme Court decisions, to create a timely and informative mini-library of perennially vital issues.

The Supreme Court is one of America's leading expositors of and participants in debates about American values. Legal expert Jay M. Feinman introduces and selects some of the most important Supreme Court Decisions of all time, which touch on the very foundations of American society. These cases cover a vast array of issues, from the powers of government and freedom of speech to freedom of religion and civil liberties. Feinman offers commentary on each case and excerpts from the opinions of the Justices that show the range of debate in the Supreme Court and its importance to civil society. Among the cases included will be Marbury v. Madison, on the supremacy of the Constitution and the power of judicial review; U.S. v. Nixon, on separation of powers; and Hamdi v. Rumsfeld, a post-9/11 case on presidential power and due process.
About the Author
---
Jay M. Feinman is Distinguished Professor of Law at Rutgers University School of Law, Camden. He is the bestselling author of six previous books, including Law 101: Everything You Need to Know About American Law and Delay, Deny, Defend: Why Insurance Companies Don't Pay Claims and What You Can Do About It, and more than fifty scholarly articles. His scholarly work has been widely cited by courts, including the United States Supreme Court. Professor Feinman is a member of the American Law Institute. At Rutgers, he has served as acting dean of the law school and has received numerous awards for teaching excellence.

Richard Beeman, the John Welsh Centennial Professor of History Emeritus at the University of Pennsylvania, has previously served as the Chair of the Department of History, Associate Dean in Penn's School of Arts and Sciences, and Dean of the College of Arts of Sciences. He serves as a trustee of the National Constitution Center and on the center's executive committee. Author of seven previous books, among them The Penguin Guide to the United States Constitution and Plain Honest Men: The Making of the American Constitution, Professor Beeman has received numerous grants and awards including fellowships from the National Endowment for the Humanities, the Rockefeller Foundation, the Institute for Advanced Study at Princeton, and the Huntington Library. His biography of Patrick Henry was a finalist for the National Book Award.