Field Gray: A Bernie Gunther Novel (Paperback)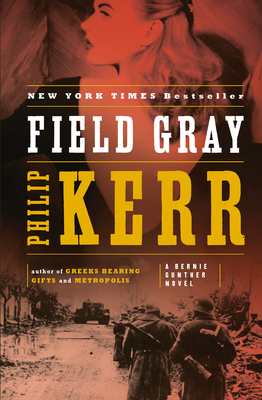 Description
---
This Edgar® Award-nominated novel in Philip Kerr's New York Times bestselling Bernie Gunther series reveals the cynical, hard-boiled detective's harrowing history as an unwilling SS officer in World War 2. 

During his eleven years working homicide in Berlin's Kripo, Bernie Gunther learned a thing or two about evil. Then he set himself up as a private detective—until 1940 when Heydrich dragooned him into the SS's field gray uniform and the bloodbath that was the Eastern Front. Spanning twenty-five tumultuous years, Field Gray strides across the killing fields of Europe, landing Bernie in a divided Germany at the height of the Cold War—revealing a treacherous world where the ends justify the means and no one can be trusted...
About the Author
---
Philip Kerr was the New York Times bestselling author of the acclaimed Bernie Gunther novels, three of which—Field Gray, The Lady from Zagreb, and Prussian Blue—were finalists for the Edgar Award for Best Novel. Kerr also won several Shamus Awards and the British Crime Writers' Association Ellis Peters Award for Historical Crime Fiction. Just before his death in 2018, he was made a Fellow of the Royal Society of Literature. As P.B. Kerr, he was the author of the much-loved young adult fantasy series Children of the Lamp.
Praise For…
---
Praise for Philip Kerr and the Bernie Gunther Novels

"A brilliantly innovative thriller writer."—Salman Rushdie
 
"Philip Kerr is the only bona fide heir to Raymond Chandler."—Salon.com
 
"In terms of narrative, plot, pace and characterization, Kerr's in a league with John le Carré."—The Washington Post
 
"Every time we're afraid we've seen the last of Bernie Gunther, Philip Kerr comes through with another unnerving adventure for his morally conflicted hero."—Marilyn Stasio, The New York Times Book Review
 
"Just as youth is wasted on the young, history is wasted on historians. It ought to be the exclusive property of novelists—but only if they are as clever and knowledgeable as Philip Kerr."—Chicago Tribune
 
"Kerr quantum leaps the limitations of genre fiction. Most thrillers insult your intelligence; his assault your ignorance."—Esquire

"A richly satisfying mystery, one that evokes the noir sensibilities of Raymond Chandler and Ross Macdonald while breaking important new ground of its own."—Los Angeles Times
 
"Part of the allure of these novels is that Bernie is such an interesting creation, a Chandleresque knight errant caught in insane historical surroundings. Bernie walks down streets so mean that nobody can stay alive and remain truly clean."—John Powers, Fresh Air (NPR)
 
"The Bernie Gunther novels are first-class, as stylish as Chandler and as emotionally resonant as the best of Ross Macdonald."—George Pelecanos
 
"Kerr's stylish noir writing makes every page a joy to read."—Publishers Weekly (starred review)