Moby-Duck: The True Story of 28,800 Bath Toys Lost at Sea & of the Beachcombers, Oceanograp hers, Environmentalists & Fools Including the Author Who Went in Search of Them (Paperback)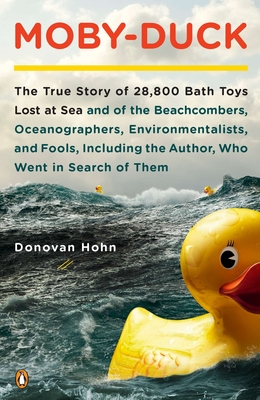 Description
---
A compulsively readable narrative of whimsy and curiosity- "adventurous, inquisitive, and brightly illuminating" (Janet Maslin,
The New York Times
).
When the writer Donovan Hohn heard of the mysterious loss of thousands of bath toys at sea, he figured he would interview a few oceanographers, talk to a few beachcombers, and read up on Arctic science and geography. But questions can be like ocean currents: wade in too far, and they carry you away. Hohn's accidental odyssey pulls him into the secretive arena of shipping conglomerates, the daring work of Arctic researchers, the lunatic risks of maverick sailors, and the shadowy world of Chinese toy factories. Moby-Duck is a journey into the heart of the sea and an adventure through science, myth, the global economy, and some of the worst weather imaginable.
About the Author
---
Donovan Hohn is a journalist whose work has appeared in Harper's Magazine, The New York Times Magazine and Outside. He is currently the features editor at GQ. Moby-Duck was nominated as the runner-up for for the 2011 PEN/ E. O. Wilson Literary Science Writing Award. Hohn lives in New York City.