The Honourable Schoolboy: A George Smiley Novel (Paperback)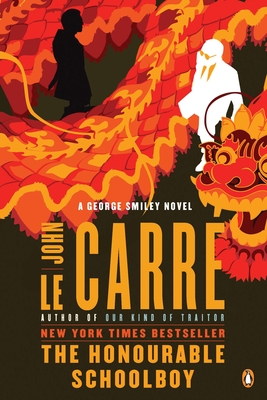 Description
---
In the second part of John le Carré's Karla Trilogy, the battle of wits between spymaster George Smiley and his Russian adversary takes on an even more dangerous dimension.

As the fall of Saigon looms, master spy George Smiley must outmaneuver his Soviet counterpart on a battlefield that neither can afford to lose.
 
The mole has been eliminated, but the damage wrought has brought the British Secret Service to its knees. Given the charge of the gravely compromised Circus, George Smiley embarks on a campaign to uncover what Moscow Centre most wants to hide. When the trail goes cold at a Hong Kong gold seam, Smiley dispatches Gerald Westerby to shake the money tree. A part-time operative with cover as a philandering journalist, Westerby insinuates himself into a war-torn world where allegiances—and lives—are bought and sold.

Brilliantly plotted and morally complex, The Honourable Schoolboy is the second installment of John le Carré's renowned Karla triology and a riveting portrayal of postcolonial espionage.
 
With an introduction by the author.
About the Author
---
John le Carré was born in 1931. For six decades, he wrote novels that came to define our age. The son of a con man, he spent his childhood between boarding school and the London underworld. At sixteen he found refuge at the university of Bern, then later at Oxford. A spell of teaching at Eton led him to a short career in British Intelligence (MI5&6). He published his debut novel, Call for the Dead, in 1961 while still a secret servant. His third novel, The Spy Who Came in from the Cold, secured him a worldwide reputation, which was consolidated by the acclaim for his trilogy Tinker Tailor Soldier Spy, The Honourable Schoolboy, and Smiley's People. At the end of the Cold War, le Carré widened his scope to explore an international landscape including the arms trade and the War on Terror. His memoir, The Pigeon Tunnel, was published in 2016 and the last George Smiley novel, A Legacy of Spies, appeared in 2017. He died on December 12, 2020.
Praise For…
---
"Not a page of this book is without intelligence and grace."—The New York Times
 
"Energy, compassion, rich and overwhelming sweep of character and action…one of the finest English novels of the seventies."—The Times (UK)
 
"All the good things are there: the Balkan complexities of plot; the Dickensian profusion of idiosyncratic characters; and above all, le Carré's glistening social observation."—Time

Praise for the Karla Trilogy: 

"...the best espionage series ever written." -- Vulture