D-Day: The Battle for Normandy (Paperback)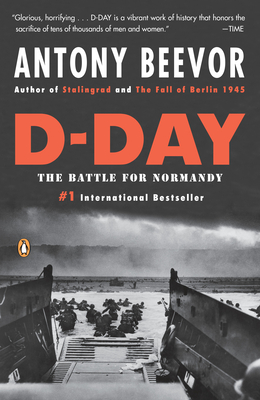 $23.00

Usually Ships in 1-5 Days
Description
---
"Glorious, horrifying... D-Day is a vibrant work of history that honors the sacrifice of tens of thousands of men and women."—Time

Renowned historian Antony Beevor, author of Stalingrad and The Battle of Arnhem, and the man who "single-handedly transformed the reputation of military history" (The Guardian) presents the first major account in more than twenty years of the Normandy invasion and the liberation of Paris. This is the first book to describe not only the experiences of the American, British, Canadian, and German soldiers, but also the terrible suffering of the French caught up in the fighting. Beevor draws upon his research in more than thirty archives in six countries, going back to original accounts and interviews conducted by combat historians just after the action. D-Day is the consummate account of the invasion and the ferocious offensive that led to Paris's liberation.
About the Author
---
Antony Beevor is the bestselling author of D-Day: The Battle for Normandy,which received the Royal United Services' Institute Westminster Medal; The Battle for Spain, which received the La Vanguardia Prize; Paris After the Liberation 1944–1949; Stalingrad, winner of the Samuel Johnson Prize, the Wolfson Prize for History, and the Hawthornden Prize for Literature; and The Fall of Berlin 1945, which received the first Longman-History Today Trustees' Award. He is the recipient of the 2014 Pritzker Military Museum & Library Literature Award for Lifetime Achievement in Military Writing. Beevor lives in England.
Praise For…
---
"Absorbing... The reader finished this accessible history with the sense he has had a 360-degree look at Operation Overlord and its multinational cast... Terrifing reading."—USA Today

"A dramatic, important, and instructive story, and Beevor tells it surpassingly well."—The Washington Post 

"Where the book really scores is in its eye for the operational detail and its vivid reconstructions of the experience of battle, as unavoidable courage mixes with arbitrary tragedy."—Lawrence Freedman, Foreign Affairs

"Beevor excels in recounting, from interviews with veterans and from the testimony of soldiers' letters and reports, just what a bloody campaign the invasion was... Beevor is especially gripping in his account of the U.S. 120th Infantry... Beevor is to be commended for emphasizing a troubling theme: the inferiority of much Allied equipment."—The Wall Street Journal

"His account of atrocities on both sides, of errors committed and of surpassing bravery makes for excellent - though often blood-soaked - reading. Beevor gets better with each book."—Kirkus Reviews (starred review)

"Beevor has written an in-depth campaign history...that should be read by beginners and experts alike."—Library Journal