The Quarter-Life Breakthrough: Invent Your Own Path, Find Meaningful Work, and Build a Life That Matters (Paperback)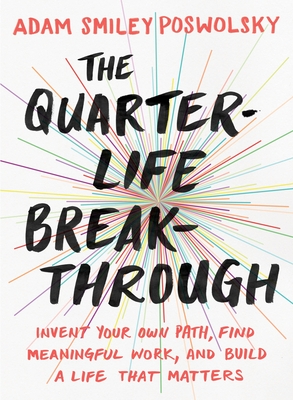 for information about purchasing this book, please contact orders@bookpassage.com
Description
---
How do you actually find meaning in the workplace? How do you find work that makes your heart sing, creates impact, and pays your rent?
 
After realizing that his well-paying, prestigious job was actually making him miserable, Adam "Smiley" Poswolsky started asking these big questions. The Quarter-Life Breakthrough provides fresh, honest, counterintuitive, and inspiring career advice for anyone stuck in a quarter-life crisis (or third-life crisis), trying to figure out what to do with your life. Smiley shares the stories of many twenty- and thirty-somethings who are discovering how to work with purpose (and still pay the bills).

Brimming with practical exercises and advice, this book is essential reading for millennial career changers and anyone passionate about getting unstuck, pursuing work that matters, and changing the world.
About the Author
---
Adam "Smiley" Poswolsky is a millennial career expert who has inspired thousands of young professionals and entrepreneurs to find fulfilling work. An internationally renowned motivational speaker, Smiley speaks at Fortune 500 companies, TEDx events, business conferences, leadership development programs, colleges, and graduate schools. His writing has been published in The Washington Post, Fast Company, and GOOD, among others. He can often be found dancing in San Francisco, California. Learn more at thequarterlifebreakthrough.com and smileyposwolsky.com.
Praise For…
---
"Fresh and engaging, this book will inspire the next generation to lead with purpose."
—Tony Hsieh, CEO, Zappos.com; New York Times bestselling author of Delivering Happiness

"I wish this book landed on my desk when I hit my quarter-life crisis! I could have saved years of frustration. Don't miss your own breakthrough; pick up this book!"
—Jon Acuff, New York Times bestselling author of Do Over

"With his triumphant The Quarter-Life Breakthrough, millennial Adam Smiley Poswolsky earns his place as a major voice of his generation. Pragmatic, philosophical, passionate, humble, delightfully funny, and infectiously inspiring, Poswolsky is a torchlight for those hungry to craft a more purposeful and rewarding adult life."
—Julie Lythcott-Haims, New York Times bestselling author of How to Raise an Adult

"Smart stuff. Smiley moves past simplistic slogans and offers instead practical and nuanced strategies for succeeding in the noble task of crafting a working life that matters."
—Cal Newport, author of Deep Work and So Good They Can't Ignore You

"Smiley's words speak to the dreamer and doer in each of us by tapping into that true voice that calls from within."
—Elle Luna, artist; author of The Crossroads of Should and Must

"With clear stepping stones, The Quarter-Life Breakthrough is an honest and actionable guide for young people who are eager to see and seize meaningful opportunities."
—Tina Seelig, Professor of the Practice, Stanford University; author of What I Wish I Knew When I Was 20

"Our generation never settles for careers they aren't passionate about. The Quarter-Life Breakthrough is the ultimate field guide to living life on your own terms and creating meaning in your work."
—Dan Schawbel, New York Times bestselling author of Promote Yourself and Me 2.0

"This awesome book is chock full of smart, practical, relatable, and timely tips for meaning-makers. If you want to make a bigger impact in others' lives, connect with a community you love, and find greater fulfillment even in an ever-changing career landscape, buy this book. And then re-read it whenever you need to turn a breakdown into a breakthrough."
—Jenny Blake, author of Pivot and Life After College

"The What Color Is Your Parachute? for the millennial generation."
—Aaron Hurst, CEO, Imperative; author of The Purpose Economy

"I wish I had Smiley's voice in my head during my twenties. The Quarter-Life Breakthrough pairs the unvarnished reality with confident, simple exercises that will move you to act at just the right time."
—Dev Aujla, author of Making Good