Alice's Adventures in Wonderland and Through the Looking-Glass: 150th-Anniversary Edition (Penguin Classics Deluxe Edition) (Paperback)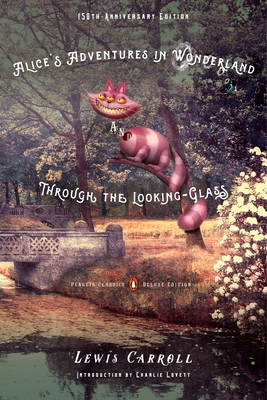 $17.00

Usually Ships in 1-5 Days
Description
---
Lewis Carroll's brilliantly timeless tales—in a deluxe 150th-anniversary edition. Nominated as one of America's best-loved novels by PBS's The Great American Read

Original, experimental, and unparalleled in their charm, Lewis Carroll's Alice's Adventures in Wonderland and Through the Looking-Glass and What Alice Found There have enchanted readers for generations. The topsy-turvy dream worlds of Wonderland and the Looking-Glass realm are full of the unexpected: A baby turns into a pig, time stands still at a "mad" tea-party, and a chaotic game of chess turns seven-year-old Alice into a queen. These unforgettable tales—filled with sparkling wordplay and unbridled imagination—balance joyous nonsense with poignant moments of longing for the lost innocence of childhood.

For more than sixty-five years, Penguin has been the leading publisher of classic literature in the English-speaking world. With more than 1,500 titles, Penguin Classics represents a global bookshelf of the best works throughout history and across genres and disciplines. Readers trust the series to provide authoritative texts enhanced by introductions and notes by distinguished scholars and contemporary authors, as well as up-to-date translations by award-winning translators.
About the Author
---
LEWIS CARROLL (1832–1898), the penname of Charles Lutwidge Dodgson, is one of Western literature's most beloved and influential writers.

CHARLIE LOVETT is the author of the New York Times bestseller The Bookman's Tale and First Impressions.

SIR JOHN TENNIEL (1820–1914) was best known for illustrating the works of Lewis Carroll and for his political cartoons in Punch magazine.
Praise For…
---
"A work of glorious intelligence and literary devices…Nonsense becomes a form of higher sense"
 –Malcolm Bradbury

"Alice in Wonderland is one of the top 25 books of all time. I always loved the book and I always loved the various characters, the psychedelic nature of it and kind-of odd allegorical stories inside stories. I always thought it was beautiful."
 –Jonny Depp

"Wonderland and the world through the Looking Glass were, I always knew, different from other imagined worlds. Nothing could be changed, although things in the story were always changing…Carroll moves his readers as he moves chess pieces and playing cards."
 –A. S. Byatt

"It would not have occurred to me even to suspect that the "children's tale" was in brilliant ways coded to be read by adults and was in fact an English classic, a universally acclaimed intellectual tour de force and what might be described as a psychological/anthropological dissection of Victorian England. It seems not to have occurred to me that the child-Alice of drawing rooms, servants, tea and crumpets and chess, was of a distinctly different background than my own. I must have been the ideal reader: credulous, unjudging, eager, thrilled. I knew only that I believed in Alice, absolutely."
 –Joyce Carol Oates

"The Alices are the greatest nonsense ever written, and far greater, in my view, than most sense."
 –Philip Pullman