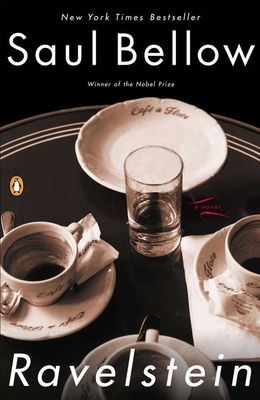 for information about purchasing this book, please contact orders@bookpassage.com
Description
---
Abe Ravelstein is a brilliant professor at a prominent midwestern university and a man who glories in training the movers and shakers of the political world. He has lived grandly and ferociously-and much beyond his means. His close friend Chick has suggested that he put forth a book of his convictions about the ideas which sustain humankind, or kill it, and much to Ravelstein's own surprise, he does and becomes a millionaire. Ravelstein suggests in turn that Chick write a memoir or a life of him, and during the course of a celebratory trip to Paris the two share thoughts on mortality, philosophy and history, loves and friends, old and new, and vaudeville routines from the remote past. The mood turns more somber once they have returned to the Midwest and Ravelstein succumbs to AIDS and Chick himself nearly dies.

Deeply insightful and always moving, Saul Bellow's new novel is a journey through love and memory. It is brave, dark, and bleakly funny: an elegy to friendship and to lives well (or badly) lived.
About the Author
---
SAUL BELLOW (1915–2005) won the Pulitzer Prize for his novel Humboldt's Gift, and was awarded the Nobel Prize for Literature. The only novelist to receive three National Book Awards, he was presented the National Book Award Foundation Medal for Distinguished Contribution to American Letters.

GARY SHTEYNGART is the author of three novels and a memoir, Little Failure. His work has won the Stephen Crane Award and the National Jewish Book Award for Fiction. He lives in New York City.
Praise For…
---
The magic still sparks and flashes on the page...Masterful in its thoroughness and intricacy...the prose rings as clearly as a meditation bell. Roland Merullo,
The Philadelphia Inquirer
(front-page review)
This book rings with laughter and joy....Ravelstein is an extraordinary character...it is hard not to feel privileged at being allowed a glimpse into a human connection as intimate and rewarding as this one. Jonathan Yardley, The Washington Post Book World (front-page review)
"With his new novel, Saul Bellow proves that he still dominates. . . . Ravelstein is full of heart and wisdom, and I want to praise it without a pinch of qualification. Sven Birkerts, Esquire
A cause for celebration...Bellow hugs the modern world hard in this novel...Ravelstein is rich, deep, and unnervingly entertaining. Jonathan Wilson, The New York Times Book Review (front-page review)