The Collected Stories (Paperback)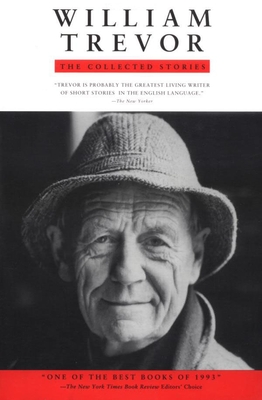 for information about purchasing this book, please contact orders@bookpassage.com
Description
---
A collection of short stories from celebrated author William Trevor in which he shines a light on the day-to-day life of Ireland and its citizens. 

From his debut collection, "The Day We Got Drunk on Cake," published in 1968, to "Family Sins" (1990), William Trevor has crafted the short story to perfection, giving us brilliant and subtle stories full of the reversals, surprises, and shadowy truths we discover in life itself. To read this volume is not just to encounter an extraordinary literary stylist, but to understand life as surely as though we were looking through the eyes of his protagonists and—deeper still—into their hearts.

William Trevor: The Collected Stories includes the tales from his seven previous books, as well as four stories that have never appeared in book form in America. They depict the comforts and frustrations of life in rural Ireland, the complexities of family relationships, and the elusive grace of love. They portray the almost invisible strands that bind people to each other as well as the chains that imprison them in solitary yearning.
About the Author
---
William Trevor was born in Mitchelstown, County Cork, and spent his childhood in provincial Ireland. He studied at Trinity College, Dublin. He is the author of twenty-nine books, including Felicia's Journey, which won the Whitbread Book of the Year Award and was made into a motion picture, and The Story of Lucy Gault, which was shortlisted for both the Man Booker Prize and the Whitbread Fiction Prize. In 1996 he was the recipient of the Lannan Award for Fiction. In 2001, he won the Irish Times Literature Prize for fiction. Two of his books were chosen by The New York Times as best books of the year, and his short stories appeared regularly in The New Yorker. In 1997, he was named Honorary Commander of the British Empire.
Praise For…
---
"Extraordinary . . . Mr. Trevor's sheer intensity of entry into the lives of his people . . . proceeds to uncover new layers of yearning and pain, new angles of vision and credible thought."
—The New York Times Book Review

"One of the finest writers now at work in our language . . . No writer practicing the form today moves with nimbler assurances than Trevor across such an impressive gamut of social types and emotional connections."
—The Boston Globe

"The indisputable master of twentieth-century fiction . . . Trevor's carefully chiseled, lyrical prose—at once ironic and elegiac—is addictive, his insights acutely compassionate. The tales are haunting and profound."
—Publishers Weekly

"A textbook for anyone who ever wanted to write a story, and a treasure for anyone who loves to read them."
—Madision Smartt Bell, USA Today

"The range of characters that Trevor manages to bring onstage is little short of astonishing. . . . A remarkable record of the distinctive imprint that Trevor has left on what is arguably this century's quintessential art form."
—New York Newsday