Easy ESL Crossword Puzzles (Paperback)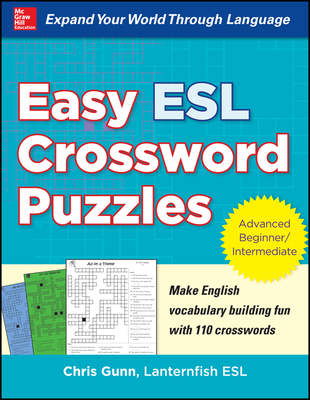 $15.00

Usually Ships in 1-5 Days
Description
---
Clue: The fun solution to building English Vocabulary
Answer: Crossword puzzles
Studying English as a second language does not have to be boring Easy ESL Crossword Puzzles gives you a deserved break from drill books and grammar primers. Offering plenty of ways to learn more than 3,000 English words, author Chris Gunn, founder of Lanternfish ESL, has created 110 themed crossword puzzles that will challenge and entertain you.
Easy ESL Crossword Puzzles helps you
Use context to learn word meanings
Become familiar with collocations--two words that are often used together--and standard English phrases and sayings
Understand word play such as rhyme, alliteration, and simile
If you are a teacher looking to add some spark to your lessons or a student needing more practice, Easy ESL Crossword Puzzles is the perfect answer to making learning English an engaging experience
About the Author
---
Chris Gunn, an ESL instructor for two decades, teaches the general English program at Inha University in Incheon, South Korea. Gunn also does teacher training for the TESOL program and for preservice teachers in their Department of Education. Gunn is the owner and chief writer for Lanternfish ESL, a website bringing printable, quality ESL resources to learners, teachers, and parents.