Repeat the Remarkable: How Strong Leaders Overcome Business Challenges to Take Their Performance to the Next Level (Hardcover)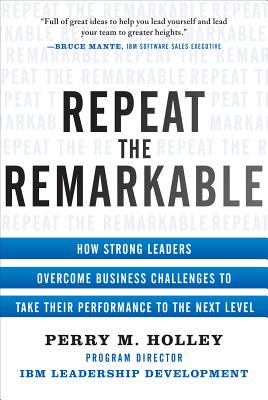 $27.00

Usually Ships in 1-5 Days
Description
---
One thing I have learned in my years of leading teams is that achieving a remarkable performance is no guarantee of repeating remarkable performance.
As a program director with IBM Leadership Development, Perry Holley has traveled the globe to improve personal and team performance in his company. He has seen first-hand how IBM has managed to stay on top during good times and bad throughout its century-long history. It all comes down to leadership that never accepts average, views challenges as opportunities, and always strives to make a difference.
Repeat the Remarkable is Holley's toolbox for organizational leadership that drives remarkable performance--and keeps it running full throttle. The ability to repeat top-notch performance is precisely the difference between good companies and great companies.
In this groundbreaking book, Holley reveals the same method he teaches IBM's leaders. He conveniently organizes his proven Model for Remarkable into three easy-to-understand sections:
FOUNDATION: The two main building blocks of remarkable performance--clear definitions of goals and the purposes behind the goals
FRAMEWORK: The four critical elements for delivering remarkable performance--exceptional behavior, preparation, discipline, and persistence
FUNCTIONALITY: The two components that ensure that remarkability is the defining trait of your company or department--a mindset of excellence and high character
The lessons in Repeat the Remarkable can be applied to any organization, whether it's a large corporation, a small business--or simply your own family unit. They are universal--and they work.
In today's hypercompetitive business landscape, where markets are completely unpredictable, being good doesn't cut it. Neither does delivering occasional remarkable performance. If you want to seize the competitive edge--and hold it--you have to deliver world-class performance on a consistent basis.
With Repeat the Remarkable, you have everything you need to infuse the right attitudes and behaviors in your people--and make sure they stick.
Praise for REPEAT THE REMARKABLE:
One of the demons that overcomes individuals and organizations is complacency. This book contains the perfect antidote. Holley uses his IBM experience as a powerful metaphor for the value of discipline that ultimately inspires individuals and teams to soar to new heights. -- JACK ZENGER, coauthor of the bestselling The Extraordinary Leader and The Inspiring Leader
Perry is a natural teacher. You walk away from each chapter with renewed enthusiasm for personal improvement change. -- JON PRIAL, IBM WW Vice President, Sales Enablement, retired
It is easy to fall into the trap of complacency after the big win. Perry lays out a plan to help you avoid that trap and become intentional about higher performance. -- T. FALCON NAPIER, founder, The Institute for Productive Tension
Perry is Remarkable. Thirty years of remarkable success is proof. If you too want to be remarkable and lead a remarkable team producing remarkable results--buy, read, and study this book. It's all in there. -- DARREN HARDY, publisher of SUCCESS, CEO mentor, and New York Times bestselling author of The Compound Effect
Repeat the Remarkable is full of great ideas to help you lead yourself and lead your team to greater heights. -- MIKE MADSEN, Vice President, IBM Software Group, Mid-Atlantic
Eminently practical and full of real-world advice. This book will affirm and inffluence those who are called to a leadership role. . . . It] offers meaningful help for everyone at every rung of the leadership ladder. -- ANNE BRUCE, "The Authority on Motivational Leadership" and author of Discover True North and The Manager's Guide to Motivating Employees
About the Author
---
PERRY HOLLEY is a program director with IBM Leadership Development. He serves and leads global teams, their managers, and top executives in developing and repeating remarkable performances.