McGraw-Hill's 400 Essential SAT Words (Paperback)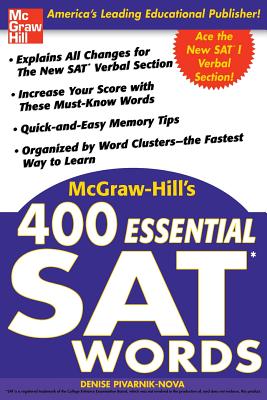 $18.00
Email or call for price
Description
---
An expert's proven method to help you ace the vocabulary section of the SAT
With the vocabulary section of the SAT slated to become even more challenging in 2005, you need more help than ever before to score well on these high-stakes exams. McGraw-Hill's 400 Essential SAT Words provides a targeted study program guaranteed to exponentially increase your command of the 400 vocabulary words most often tested on the SAT. Providing a complete introduction to the newly revised SAT vocabulary section, this integrated study guide features:
Chapters on how to identify synonyms and paraphrase sentences, roots, prefixes, and suffixes
Simulated verbal reasoning exercises for the new SAT I
Theme "cluster" groupings to help reinforce usage ability and understanding
Memory tips and techniques to reinforce retention
Drills and exercises after every word cluster and story
About the Author
---
Denise Pivarnik-Nova is the coordinator for the Minnesota Advanced Placement Incentive Program. She is also an advanced placement specialist and item writer for the SAT and other standardized tests for the College Board and Educational Testing Service. She has been involved with the College Board since 1980 and has many expert insights into its standardized tests. She lives in Robbinsdale, Minnesota.