The Hero and the Outlaw: Building Extraordinary Brands Through the Power of Archetypes (Hardcover)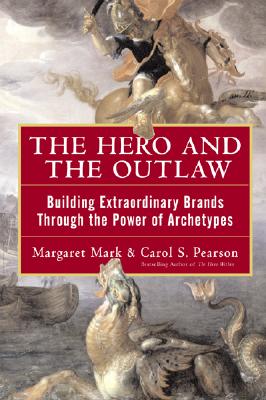 $39.00

Usually Ships in 1-5 Days
Description
---
A brand's meaning--how it resonates in the public heart and mind--is a company's most valuable competitive advantage. Yet, few companies really know how brand meaning works, how to manage it, and how to use brand meaning strategically. Written by best-selling author Carol S. Pearson (The Hero Within) and branding guru Margaret Mark, this groundbreaking book provides the illusive and compelling answer. Using studies drawn from the experiences of Nike, Marlboro, Ivory and other powerhouse brands, the authors show that the most successful brands are those that most effectively correspond to fundamental patterns in the unconscious mind known as archetypes. The book provides tools and strategies to:
- Implement a proven system for identifying the most appropriate and leverageable archetypes for any company and/or brand
- Harness the power of the archetype to align corporate strategy to sustain competitive advantage.
About the Author
---
Margaret Mark is the president of Margaret Mark Strategic Insight, a marketing consulting firm specializing in a unique form of brand management based on a deep, even primal, understanding of how consumers and brands interact. A former Executive Vice President of Young & Rubicam, her recent clients include Cablevision/Madison Square Garden, Sesame Workshop, SAP America, Polo Ralph Lauren, and the March of Dimes. Carol S. Pearson, Ph.D., is President of CASA, the Center for Archetypal Studies and Applications, a management consultant offering integrated branding/organizational developments services, and the best-selling author of The Hero Within: Six Archetypes We Live By, Awakening the Heroes Within: 12 Archetypes to Help Us Find Ourselves and Transform Our World, Magic at Work, and the Pearsons-Marr Archetype Indicator (PMAI). Pearson and Mark apply the concepts described in this book both individually and in partnership. For further information, contact PearsonMark@earthlink.com.