Roughing It on the Oregon Trail (Paperback)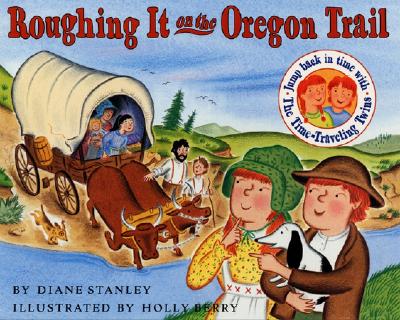 $7.99

Usually Ships in 1-5 Days
Description
---
What if you could close your eyes and open them to find you were amongst hundreds of pioneers in 1843, packing up your covered wagon to travel the 2,000 miles of the Oregon Trail? Meet twins Liz and Lenny and their unique grandmother, who, with the help of her magic hat, can transport the twins to any time in history. In their first journey, the twins spend eight months crossing the country on foot and by covered wagon, braving the mountain ranges and river valleys, battling floods and droughts, and cooking slam-johns and sowbellies over buffalo chips.
Diane Stanley's spirited, humorous, and historically accurate depiction of day-to-day life on the Oregon Trail is brought to life with Holly Berry's energetic illustrations. Overflowing with fun, informative details, and word balloons that capture each piece of dialogue, young readers will be transported into an exciting page in American history alongside the adventurous Time-Traveling Twins.
Children's Pick of the Lists 2000(ABA) and Children's Books 2000-NY Public Lib.
About the Author
---
Diane Stanely is the author and illustrator of beloved books for young readers, including The Silver Bowl, named a best book of the year by Kirkus Reviews and an ALA Booklist Editors' Choice; The Cup and the Crown; The Princess of Cortova; Saving Sky, winner of the Arab American Book Award; Bella at Midnight, a School Library Journal Best Book of the Year and an ALA Booklist Editors' Choice; The Mysterious Case of the Allbright Academy; The Mysterious Matter of I. M. Fine; The Chosen Prince; and Joplin, Wishing.
Ms. Stanley has written and illustrated numerous picture books, including three creatively reimagined fairy tales, The Giant and the Beanstalk, Goldie and the Three Bears, and Rumpelstiltskin's Daughter, and an award-winning series of picture book biographies. She lives in Santa Fe, New Mexico. You can visit her online at www.dianestanley.com.
Holly Berry is an award-winning artist and illustrator of picture books for children. Her books include I'm a Pig by Sarah Weeks, The Gingerbread Cowboy by Janet Squires, and Market Day by Eve Bunting, among others. She lives on a blueberry farm in Maine with her family and a few pets—including a cat named Flossie.