Loveboat Forever (Hardcover)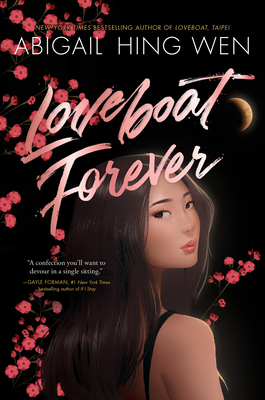 Description
---
Return to the sparkling world of Loveboat, this time with Pearl Wong, on an entirely new, romantic, whirlwind adventure from Abigail Hing Wen, New York Times bestselling author of Loveboat, Taipei!
Don't miss the movie adaptation of Loveboat, Taipei (called Love in Taipei), starring Ashley Liao (Physical, Fresh Off The Boat), Ross Butler (To All The Boys I've Loved Before franchise, Shazam!), and Nico Hiraga (Booksmart) and Chelsea Zhang (Daybreak), now available on multiple streaming platforms, including Paramount+, Amazon Prime, and Apple TV!
Pearl was ready for a worldwide stage. Instead, she needs to stage a comeback.
Seventeen-year-old music prodigy Pearl Wong had the summer of her dreams planned—until a fall from grace leaves her in need of new plans…and a new image.
Where better to revamp her "brand" than at Chien Tan, the Taipei summer program for elite students that rocketed her older sister, Ever, on a path to romance and self-fulfillment years ago.
But as the alumni know, Chien Tan is actually Loveboat—the extravagant world where prodigies party till dawn—and there's more awaiting Pearl there than she could have ever imagined, like a scandalous party in the dark, a romantic entanglement with a mysterious suitor...and a summer that will change her forever.
Sweeping, glamorous, and deeply soulful, this companion to the New York Times bestselling novel Loveboat, Taipei and Loveboat Reunion will reunite readers with their favorite characters, in a thrilling new journey of romance, self-discovery, and empowerment. Perfect for fans of Jenny Han and Sarah Dessen.  
"What a sheer delight it is to be back in Taipei, this time as classical musician Pearl Wong recovers from social media catastrophe at the same summer program that so radically transformed her sister, Ever. Full of familiar faces and new friends, revelry, romance, and self-discovery, Abigail Hing Wen has crafted another confection you'll want to devour in a single sitting." —Gayle Forman, #1 New York Times bestselling author of If I Stay
"What a fun romance with breathtaking destinations, hilarious mishaps, and heartwarming surprises. Another winner in Abigail Hing Wen's enchanting Loveboat book series!" —Melissa de la Cruz, #1 New York Times bestselling author
About the Author
---
Abigail Hing Wen is the New York Times and indie bestselling author of the Loveboat series. Her first novel, Loveboat, Taipei, has been adapted into the Paramount+ original movie Love in Taipei. She holds a BA from Harvard, a JD from Columbia Law School, and an MFA from the Vermont School of Fine Arts and, like some of her characters, is obsessed with musicals and dancing. When she's not writing stories or listening to her favorite scores, she is busy working in artificial intelligence in Silicon Valley, where she lives with her family. You can learn more about her at abigailhingwen.com.
Praise For…
---
"What a sheer delight it is to be back in Taipei, this time as classical musician Pearl Wong recovers from social media catastrophe at the same summer program that so radically transformed her sister, Ever. Full of familiar faces and new friends, revelry, romance and self-discovery, Abigail Hing Wen has crafted another confection you'll want to devour in a single sitting."
— Gayle Forman, #1 New York Times Bestselling author of If I Stay
"What a fun romance with breathtaking destinations, hilarious mishaps and heartwarming surprises. Another winner in Abigail Hing Wen's enchanting Loveboat book series!"
— Melissa de la Cruz, #1 New York Times bestselling author
"Pearl's earnestness shines through her narration, taking readers with her on an eye-opening summer of self-examination and finding her roots. Heartfelt." — Kirkus Reviews
PRAISE FOR Loveboat Reunion: "Like a mooncake—sweet, savory, and altogether satisfying."  — Kirkus Reviews
"Loveboat Reunion is about the interplay between surface images and our true selves, about trying to figure out who we are in an image obsessed world, about the way people see us and how it can limit and entrap, and what it means when someone really actually sees you for who you are." — Anne Ursu, author of National Book Award long-listed novel The Lost Boy
"An inspiring look at the strength of family and the importance of art, and how both can influence how we see ourselves and the world around us. Plus, it's just wonderfully romantic! I fell in love with Xavier, Sophie, and Loveboat all over again." — Marissa Meyer, bestselling author of Instant Karma
PRAISE FOR Loveboat, Taipei: "Abigail Hing Wen's Loveboat, Taipei is a poignant and honest examination of first love, family obligations and that strange place between high school and college, where we don't quite know who we are and as such, anything could happen. A unique story from an exciting and authentic new voice." — Sabaa Tahir, #1 New York Times bestselling author of An Ember in the Ashes
"Equal parts surprising, original, and intelligent, Loveboat, Taipei is an intense rush of rebellion, romance, and complex family dynamics. If you've ever wanted to feel as if you're breaking all the rules without actually breaking any rules then this is the book you need to read."    — Stephanie Garber, #1 New York Times bestselling author of Caraval
"Not a ship, but a cultural phenomenon, get ready to board the Love Boat, where millions of Chinese Americans get their first taste of love and freedom. Abigail Hing Wen's debut is fresh as a first kiss."
— Stacey Lee, award-winning author of Outrun the Moon
"Loveboat is Crazy Rich Asians meets a Jane Austen comedy of manners—fresh, fun, heartfelt and totally addictive, a story about finding your place--and your people--where you least expected."   — Kelly Loy Gilbert, Morris Award Finalist author of Conviction
"[Loveboat, Taipei] is a wonderful read and I find the book has just stayed with me. It has so much to say about being the child of immigrants, about gender and sexuality, about identity and what makes a home. Ever's search to define herself, with all her intersecting identities, in a world that wants to define her is really beautifully wrought and lovely."
— Anne Ursu, author of the National Book Award long listed novel The Lost Boy
"An entertaining and heartfelt debut that takes readers on a roller-coaster ride of romance and self-discovery."  — Kirkus Reviews
"From tea eggs to snake blood sake, the energy of Taipei in the summer provides a winning backdrop to this joyful debut about a young American dancer who finds love and freedom by exploring her Taiwanese roots." — Publishers Weekly
"Ever's summer [turns] into one of love, mischief, and self-awakening that she will soon not forget… [but] It's Ever's resulting growth in the face of parental expectations and heartache that will resonate most with readers far and wide." — Booklist
"Refreshing and exciting…YA readers will love the mix of romance, defiance, adventure, culture, and friendship." — School Library Journal
"There's a sweetness to Ever's rumspringa, and the hothouse atmosphere of Chien Tan, with its intense relationships and clever balance between respectability for parents and opportunistic freedom for their offspring, is deftly conveyed."  — Bulletin of the Center for Children's Books