Graceland: A Novel (Paperback)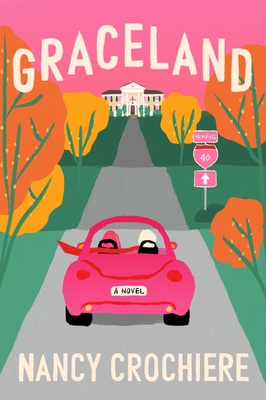 $18.99

Usually Ships in 1-5 Days
Description
---
"Graceland is a sparkling, warm-hearted, witty debut. I so enjoyed joining these three generations of women on their action-packed road trip to Memphis!" —Liane Moriarty, #1 New York Times bestselling author
Hope Robinson can't seem to please anyone lately, especially not her mother, the flamboyant soap star Olivia Grant. Olivia loves Elvis more than Jesus and, convinced she's dying, insists on a final visit to Graceland. Unfortunately, that's the one place Hope can't take her. Hope fled Memphis years ago with a shameful secret and a vow never to return.
Olivia, though, doesn't understand the word no. Instead, she wrangles Hope's pink-haired daughter, Dylan, to drive her to Memphis by promising to reveal the mystery of her long-lost father. Hope must stop them before they expose the truth and all hell breaks loose.
As the women race from Boston to Memphis, encountering jealous soap actors, free-range ferrets, and a trio of Elvis-impersonating frat boys, everyone's secrets begin to unravel. In order to become the family they long to be, Hope, Olivia, and Dylan must face hard truths about themselves and one another on the bumpy road to acceptance, forgiveness, and ultimately, grace.
"Irresistible, addictive, and utterly entertaining, Graceland is bound to win readers' hearts... This story of family secrets, broken promises, and the healing power of love will stay with you long after the final page is turned." —Susan Wiggs, New York Times bestselling author
"Nancy Crochiere writes with such warmth and wit that I felt I was there alongside the women, cheering them on at every step of their crazy journey." — Sarah Haywood, New York Times bestselling author of The Cactus
About the Author
---
Nancy Crochiere chronicled the ups and downs of family life—including her obsession with George Clooney—in her humorous newspaper column, "The Mother Load." Her essays have appeared in the Boston Globe and Writer's Digest, and on WBUR's Cognoscenti blog. In her free time, she acts as an extra in feature films and TV shows.
Praise For…
---
"Graceland is a sparkling, warm-hearted, witty debut. I so enjoyed joining these three generations of women on their action-packed road trip to Memphis!" — Liane Moriarty, #1 New York Times bestselling author
"Irresistible, addictive, and utterly entertaining, Graceland is bound to win readers' hearts. There are few things more delightful than a mother-daughter-granddaughter trio on a road trip. To Graceland! This story of family secrets, broken promises, and the healing power of love will stay with you long after the final page is turned." — Susan Wiggs, New York Times bestselling author
"Funny and touching. Every debut novel should be this entertaining. You'll love these women. Prepare to enjoy!"
— Susan Elizabeth Phillips, New York Times bestselling author
"Who doesn't love a road trip especially when it's a quirky, page-turning debut? Fasten those seatbelts as Crochiere introduces three generations of women, all packing their own secrets and baggage, as they go en route to Graceland to find some grace of their own. About mothers and daughters, the end of life and the beginnings, and mostly about how life has its own ideas about the roadmaps we think we have to follow." — Caroline Leavitt, New York Times bestselling author of With or Without You
"Brimming with mischief and mystery, Nancy Crochiere's Graceland is as heartfelt as it is hilarious. This generational road trip pulls you in with speed and locks you in for the ride—much like the feisty force of nature, Olivia, who models for her daughter and granddaughter living life with vigor despite fears and challenges. Make time in your schedule because you won't be sleeping until you finish this charming gem of a novel." — Ann Garvin, USA Today bestselling author of I Thought You Said This Would Work
"If you like road trips, soap opera villainesses, lost loves, and found fathers—and who doesn't like them?—you'll love Nancy Crochiere's delightful, never-a dull-chapter first novel. Graceland is an expertly structured tale of family secrets that get revealed over the course of a trip to Memphis and with Elvis's greatest hits playing in the background. Crochiere delivers enough humor and surprises to keep the reader eagerly turning pages and enough heart to make this one memorable and satisfying journey." — Stephen McCauley, author of My Ex-Life
"With a charming cast of characters, intrigue, adventure, and touching mother-daughter relationships, Graceland sparkles from start to finish."  — Sonya Lalli, author of Jasmine and Jake Rock the Boat and Holly Jolly Diwali
"Graceland is a sheer delight. With just the right mix of humor and heart—plus plenty of big, juicy secrets—Nancy Crochiere takes us on a road trip through the complexities of mother-daughter relationships, the power of the past, and the importance of being honest, both with the people we love and with ourselves. All this and Elvis, too." — Jane Roper, author of The Society of Shame
"I can't help falling in love with this hair-raising road trip to Graceland! I was hooked on page one of this big-hearted laugh-out-loud debut. Secrets, unexpected turns, and a mother-daughter-grandmother trio show that sometimes the right way can't be found on any map." — Rachel Barenbaum, author of Atomic Anna
"A fun, warm-hearted story with fresh and original passengers, Graceland is a new spin on the family road trip, complete with a love-story-mystery at its center. I loved it!" — Laurie Petrou, author of Stargazer
"Graceland is an utterly enchanting update of the American road story. Combining classic madcap antics with an up-to-the-minute look at family dynamics and forgiveness, the novel is at once funny and probing, personal and political, full of both youthful verve and the wisdom that comes with age. Imagine getting to hear slim Elvis and fat Elvis crooning together in harmony—that's how fun it is to read this book!" — Michael Lowenthal, author of Charity Girl
"If a book could be a Cadillac convertible taken out for a joyful spin by three generations of strong-minded women, Graceland is it. With twists and turns aplenty, this warmhearted comic novel will leave you believing that love really does conquer all." — Holly Robinson, author of Folly Cove
"Humorous and heartwarming, Graceland will leave readers smiling." — Parade
"Filled with heartfelt adventure and loveable characters." — Women's World
"A humorous and entertaining exploration of matriarchal family dynamics that will leave readers with a smile...a charming novel that will delight fans of Elyssa Friedland." — Booklist