Undiscovered: A Novel (Hardcover)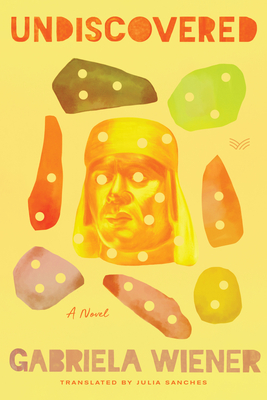 $24.00

Coming Soon - Available for Pre-Order Now
Description
---
"Wiener has rescued an intimate story from the family archive, a story that is also the infamous history of our continent, with her trademark intelligence and irreverent humor. Her prose, sober and forward, is fresh air; her view allows us to be testimonies of Latin America's cycles of plundering and looting."—Valeria Luiselli, author of The Lost Children Archive and Tell Me How It Ends
An award-winning Peruvian journalist and writer delivers her stunning English breakthrough, blending fact and fiction in an autobiographical novel that faces the legacy of colonialism through one woman's family ties to both the colonized and colonizer.
Alone in a museum in Paris, Gabriela Wiener finds herself confronted by her complicated family heritage. Visiting an exhibition of pre-Columbian artifacts, she peers at countless sculptures of Indigenous faces each nearly identical to her own and recognizes herself in them – but the man responsible for pillaging them was her own great-great-grandfather, Austrian colonial explorer Charles Wiener. Wiener's "grand" contribution to history: the near rediscovery of Machu Picchu, nearly 4,000 plundered artifacts, a book about Peru, and a bastard child.
In the wake of her father's death, Gabriela begins to unpack the legacy that is her birthright. From the brutal racism she encounters in her ancestor Charles's book to her father's infidelity, she traces a cycle of abandonment, jealousy and colonial violence, in turn reframing her own personal struggles with desire, love, and race. As she explores the history of two continents, her investigation brings her closer and closer to the more intimate realm where both colonizer and colonized ultimately converge– the body– and her own desire to free it. Guided by a penetrating eye and fearsome wit, Undiscovered embarks the reader on a quest to pick up the pieces of something shattered long ago in the hopes of making it whole once again.
Probing wounds both personal and historical, Undiscovered is a culminating labor for our age, an earnest attempt to decolonize one's own desire.
Translated by Julia Sanches
About the Author
---
Born in Lima, Peru, Gabriela Wiener is an award-winning journalist and the author of Nine Moons, Sexographies, and six other books of crónicas and poems published in Spanish. Her work has appeared across countless publications and been translated in more than five languages. She was previously editor of the Spanish edition of Marie Claire and regularly contributes to El Diario (Spain), Vice, and the New York Times en Español. In 2018, she was awarded Peru's National Journalism Award for her part in an investigative report on gender violence. She currently resides in Madrid.
Praise For…
---
"Wiener has rescued an intimate story from the family archive, a story that is also the infamous history of our continent, with her signature intellect and irreverent wit. Her prose, sober and forward, is a breath of fresh air; her view allows us to be testimonies of Latin America's cycles of plundering and looting."  — Valeria Luiselli, author of The Lost Children Archive and Tell Me How it Ends

"Gabriela Wiener's ease and grace allow her in Undiscovered to explore family, desire, racism, colonialism and being a migrant both tenderly and crudely, vulnerable yet resolute like her beautiful prose." — Mariana Enríquez, author of 'Our Share of Night'
"To trail Gabriela Wiener, to follow in her footsteps, dreaming of reaching her, is one of the few luxuries we have left." — Alejandro Zambra, Author of Chilean Poet and Ways of Going Home
"Can you imagine a book starring the search for a European ancestor who was a Peruvian ceramic thief, of a bleached and bastard great-grandfather, of polyamory and its deceits, of the grief for a father's loss, of the heterosexual family and their shameful secrets, of the anticolonialist sex workshops. . . ? Step by step, what seems to be a random encounter of a sewing machine and an umbrella on a dissection table becomes the best book that I've read about filiation and love in the contemporary postcolonial condition. Gabriela Wiener has created queer and decolonial psychogenealogy!" — Paul B. Preciado
"An investigative odyssey prompted by a fresh wound . . . where the intimate drama of a family is subsumed into the grander cosmos of colonialism. . . . A beautiful artifact." — Dolores Reyes, Author of Eartheater
"Wiener uses as raw material the arrogance of Eurocentric violence to create radically beautiful and necessary narrations for the antiracist fights."  — Daniela Ortiz
"A collective autobiography in the key of decolonization; a reckoning unafraid to interrogate itself . . . that inspires awe and shudders." — Cristina Rivera Garza
"Gabriela Wiener is a completely unique talent: a graceful storyteller, an acute observer of human vanity, a writer of bold, often delightful insights. Every book she writes is an event not to be missed." — Daniel Alarcón, PEN/Faulkner Award Finalist and Author of At Night We Walk in Circles