Why Didn't They Ask Evans? [TV Tie-in] (Paperback)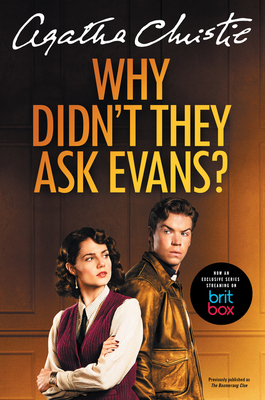 Description
---
"[We] can't get enough of Christie's plush and murderous thrills." –Entertainment Weekly
A dying man's cryptic last words provide the spark for this beloved Agatha Christie mystery, now a BritBox limited series directed by Hugh Laurie and starring Will Poulter and Lucy Boynton.
While playing an erratic round of golf, Bobby Jones slices his ball over the edge of a cliff. His ball is lost, but on the rocks below he finds the crumpled body of a dying man. The man opens his eyes and with his last breath says, "Why didn't they ask Evans?"
Haunting by those words, Bobby and his vivacious companion, Frankie, set out to solve a mystery that will bring them into mortal danger....
About the Author
---
Agatha Christie is the most widely published author of all time, outsold only by the Bible and Shakespeare. Her books have sold more than a billion copies in English and another billion in a hundred foreign languages. She died in 1976, after a prolific career spanning six decades.
Praise For…
---
"Agatha Christie had one of the most creative minds in mystery fiction. She managed to use up almost all the plots before most of us were born." — Nevada Barr, New York Times bestselling author of the Anna Pigeon mysteries
"A story that tickles and tantalizes but never exhausts the reader's patience or ingenuity." — Times Literary Supplement (London)
"Timeless . . . why do we all continue to turn to her tales of mysteries and death? Maybe Christie put it best herself – that is the secret of existence, she said; we're all a little mad." — NPR, All Things Considered
"Agatha Christie [is] the maestro of murder tales." — People
"In addition to being enthrallingly plotted, Christie's books are just plain satisfying to read, especially in difficult, unpredictable times. She introduces a limited number of suspects in a limited space, ties up all her loose ends, and brings perpetrators to justice." — Publishers Weekly
"[We] can't get enough of Christie's plush and murderous thrills." — Entertainment Weekly
"Agatha Christie was perfecting and reinventing the genre." — New York Times