The Boy Who Reached for the Stars \ El niño que alcanzó las estrellas (Sp. ed.): la memoria (Paperback)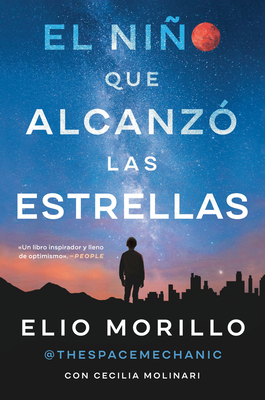 Description
---
Elio Morillo, el "mecánico del espacio", toca tanto nuestro futuro como el pasado en estas apasionantes memorias.
 Nacido en Ecuador, pero forzado a emigrar a los Estados Unidos tras el colapso económico, la vida de Elio Morillo salió de su órbita abruptamente. Aún así, una infancia itinerante pone en marcha una migración cuyo ímpetu, en última instancia, llevará a Elio a la mayor expansión del esfuerzo humano: el espacio. Confrontando una historia de adversidad y desigualdad sistémicas en la educación pública, avanzando todo el tiempo con determinación, el recorrido de Elio está tan en deuda con sus sueños galácticos como con una madre amorosa cuyos sacrificios pusieron el suelo bajo sus pies. Hoy, Elio ayuda a la NASA en su misión de explorar Marte, así como en promover el futuro de las innovaciones humanas: desde la Inteligencia Artificial hasta la robótica para crear infraestructura y acceso equitativo.
El chico que alcanzó las estrellas son unas memorias cósmicas e íntimas tejidas de una constelación de memoria e intrépida curiosidad, tan profundamente luminosas como las estrellas del firmamento. 
About the Author
---
Elio Morillo, the "space mechanic" is a Mars 2020 operations engineer at NASA's Jet Propulsion Laboratory. Born in Ecuador and raised in Puerto Rico and New York, Elio's experiences have left him passionate about DEI, bringing years of volunteering and organization experience to JPL's Hispanic Employee Resource Group and more recently to its New Researchers and Scientists Group, where he is the current networking chair. He is a proud graduate of the University of Michigan and currently resides in California.