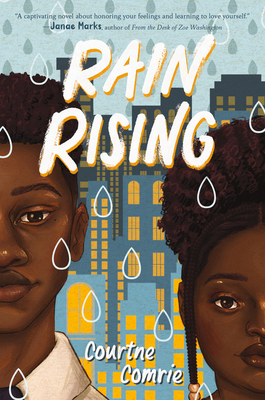 Description
---
An inspiring debut middle grade novel-in-verse about Rain, who must overcome sadness after her all-star brother is badly beaten up at a frat party. Genesis Begins Again meets Brown Girl Dreaming in this powerful story of perseverance, family, and hope.
"A gorgeous debut: a necessary, cathartic, immersive healing experience." —Kirkus Reviews (starred review)
"In this gut-wrenching verse novel by debut author Comrie, thirteen-year-old City Middle School student Rain Washington grapples with the aftermath of a violent racist attack. . . . Comrie sensitively tackles myriad topics, including colorism, fiscal scarcity, and structural racism, as well as their effects on mental health, in this impressive volume." —Publishers Weekly (starred review)
"This lovingly crafted novel-in-verse is a much-needed reminder that compassion, both for oneself and others, can help make the world right as rain." —Bulletin of the Center for Children's Books (starred review)
"A searing exploration of the intricacies of racism, privilege, and self-worth within the confines of the Black community. Rain's journey is one that includes an acceptance of all the pieces of her identity that make her whole and unique." —ALA Booklist
Rain is keeping a big secret from everyone around her: She's sad. All the time. Rain struggles with her image and feels inferior to her best friend, Nara. Not even her all-star student-athlete big brother (and personal superhero), Xander, can help Rain with her dark thoughts and low self-esteem.
And when Xander becomes the victim of violence at a predominantly white university, Rain's life and mind take a turn for the worse. But when her favorite teacher, Miss Walia, invites her to an after-school circle group, Rain finds the courage to help herself and her family heal.
Like the rain, she is both gentle and a force, finding strength to rise again.
"You can't help but fall in love with this book. Heartbreaking, emotional, and a ride well worth taking." —Marie Arnold, author of The Year I Flew Away and I Rise
"Everyone who reads this will be inspired by Rain's dedication to finding healing." —Elisabet Velasquez, author of When We Make It
A 2023 Bank Street Books Best Children's Book of the Year for Ages 12-14 in Fiction (Contemporary Issues)!
About the Author
---
Courtne Comrie is a poet and writer who prefers tackling heavy topics through simplistic and beautiful verse. Born in Toronto, Canada, but raised in the Bronx and Mount Vernon, New York, she graduated from CUNY Lehman College with a BA in creative writing through TheDream.US scholarship for undocumented students. She is an educator, mentor, and an aunt to three amazing humans. Visit her online at www.courtnecomrie.com.
Praise For…
---
"A gorgeous debut: a necessary, cathartic, immersive healing experience."
— Kirkus Reviews (starred review)
"In this gut-wrenching verse novel by debut author Comrie, 13-year-old City Middle School student Rain Washington grapples with the aftermath of a violent racist attack . . . .Comrie sensitively tackles myriad topics, including colorism, fiscal scarcity, and structural racism, as well as their effects on mental health, in this impressive volume." — Publishers Weekly (starred review)
"A searing exploration of the intricacies of racism, privilege, and self-worth within the confines of the Black community. Rain's journey is one that includes an acceptance of all the pieces of her identity that make her whole and unique."  — Booklist
"This captivating novel about honoring your feelings and learning to love yourself brought up so many emotions. I loved how it normalizes attending therapy and working through your traumas. RAIN RISING is a powerful and beautifully written debut!" — Janae Marks, author of From the Desk of Zoe Washington
"Rain Rising is a powerful novel about mental health, self-love, and family. We need more depictions of Black girls who live with depression, who are in therapy, and find ways to shine with the support of family, friends, and beloved community. I ached alongside Rain in her grief, and was lifted up by her hope and courage. An important, beautiful book filled with tenderness and heart." — Mariama J. Lockington, author of For Black Girls Like Me and In the Key of Us
"With a main character you can't help but fall in love with, Rain Rising tackles difficult subjects with grace and gives us characters that are complex yet relatable, fragile yet strong willed. Comrie's debut novel is heartbreaking, emotional and at times humorous. This is a ride well worth taking."  — Marie Arnold, author of The Year I Flew Away and I Rise
"I knew I would enjoy this book by the title. In a journal entry Rain writes, "It's crazy how much healing can come from just being honest." Rain Rising tells the truth about not feeling enough for the world and finding the courage to keep going in spite of it. I know every young person who reads this will be inspired by Rain's dedication to finding healing for herself and her family. I look forward to seeing this out in the world."  — Elisabet Velasquez, author of When We Make It
"This lovingly crafted novel-in-verse is a much-needed reminder that compassion, both for oneself and others, can help make the world right as rain." — Bulletin of the Center for Children's Books (starred review)