What She Missed (Hardcover)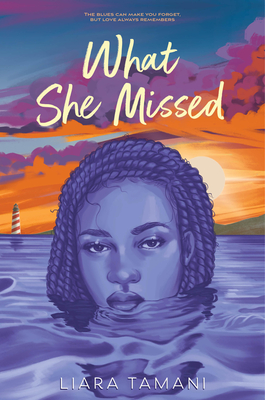 $19.99

Usually Ships in 1-5 Days
Description
---
Sixteen-year-old Ebony Jones is devastated when her family moves from Houston to her grandmother's house in the country. There's absolutely nothing for Ebony in Alula Lake, Texas. So she thinks.
Award-winning author Liara Tamani's What She Missed is a rich and emotional novel that celebrates change, nature, friendship, growing up, and love, for readers of Sarah Dessen's The Rest of the Story and Elizabeth Acevedo's Clap When You Land.
When Ebony and her parents move from Houston, Texas, to her grandmother's house in a small lake town, Ebony is sure her life is doomed. And to make matters worse, the ghost of Ebony's beloved grandmother—a strong swimmer who tragically drowned in the lake—is everywhere. Alula Lake does offer one perk: reconnecting Ebony with her childhood friend, Jalen.
But as Ebony settles into life, she finds herself drifting away from Jalen and gravitating to his older sister, Lena. Lena is chaotic, disorderly, and rebellious, yet she offers a reprieve for the anger and sadness Ebony feels about losing so much.
An ode to nature, art, friendship, history, family, and love, this lyrical coming-of-age story explores one girl's summer of self-discovery as she reimagines the world and her place in it. What She Missed is for fans of Sarah Dessen, Nina LaCour, and Nicola Yoon. 
About the Author
---
Liara Tamani holds an MFA in writing from Vermont College of Fine Arts and a BA from Duke University. She is the author of the acclaimed young adult novels Calling My Name, a 2018 PEN America Literary Award Finalist and SCBWI Golden Kite Finalist; All the Things We Never Knew, a 2020 Kirkus Best YA Book of the Year; and What She Missed. Before becoming a writer, she attended Harvard Law School and worked as a marketing coordinator for the Houston Rockets and Comets, production assistant for Girlfriends (TV show), home accessories designer, floral designer, and yoga and dance teacher. She lives in Houston, Texas. liaratamani.com
Praise For…
---
"Grief, severe anxiety, and an abundance of negative self-talk make for a narrator who is at odds with herself—and who's missing a lot of what's going on around her. . . . She is a protagonist who is simultaneously deeply frustrating and relatable, and by the end she's at least able to paint herself more clearly. Heartbreakingly well executed." — Kirkus Reviews
"Sixteen-year-old painter Ebony Jones . . . is struggling to figure out who she is. . . . Lyrical yet grounded prose by Tamani depicts Ebony's emotional turmoil via a keen first-person POV, while interstitials featuring an omniscient narrator act as between-the-lines glimpses into Ebony's psyche. Amid the emotional intensity, these unique moments of narrative interjection provide quiet spaces for reader contemplation regarding the things one hides from oneself and the ways in which self-discovery can inspire both fear and feelings of freedom." — Publishers Weekly
"[Ebony Jones] is angry that her parents have decided to leave Houston for tiny, rural Alula Lake . . . Ebony's anger feeds on her reckless behavior and consumes her until she reaches a breaking point that puts her on the path to clarity. . . . Refreshingly realistic and thoughtfully drawn." — Booklist