Next Person You Meet in Heaven: The Sequel to The Five People You Meet in Heaven (Mass Market)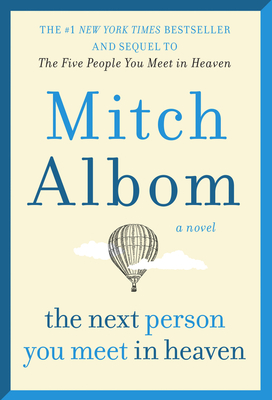 $9.99

Usually Ships in 1-5 Days
Description
---
In this enchanting sequel to the #1 bestseller The Five People You Meet in Heaven, Mitch Albom tells the story of Eddie's heavenly reunion with Annie—the little girl he saved on earth—in an unforgettable novel of how our lives and losses intersect.
In Mitch Albom's beloved novel, The Five People You Meet in Heaven, the world fell in love with Eddie, a grizzled war veteran-turned-amusement park mechanic who died saving the life of a young girl named Annie. Eddie's journey to heaven taught him that every life matters. Now, in this magical sequel, Albom reveals Annie's story.
The accident that killed Eddie left an indelible mark on Annie. It took her left hand, which needed to be surgically reattached. Injured, scarred, and unable to remember why, Annie's life is forever changed by a guilt-ravaged mother who whisks her away from the world she knew. Bullied by her peers and haunted by something she cannot recall, Annie struggles to find acceptance as she grows. When, as a young woman, she reconnects with Paulo, her childhood love, she believes she has finally found happiness.
As the novel opens, Annie is marrying Paulo. But when her wedding night day ends in an unimaginable accident, Annie finds herself on her own heavenly journey—and an inevitable reunion with Eddie, one of the five people who will show her how her life mattered in ways she could not have fathomed.
Poignant and beautiful, filled with unexpected twists, The Next Person You Meet in Heaven reminds us that not only does every life matter, but that every ending is also a beginning—we only need to open our eyes to see it.
About the Author
---
Mitch Albom is the author of numerous books of fiction and nonfiction, which have collectively sold more than forty million copies in forty-seven languages worldwide. He has written seven number-one New York Times bestsellers – including Tuesdays with Morrie, the bestselling memoir of all time, which topped the list for four straight years – award-winning TV films, stage plays, screenplays, a nationally syndicated newspaper column, and a musical. Through his work at the Detroit Free Press, he was inducted into both the National Sports Media Association and Michigan Sports halls of fame and is the recipient of the 2010 Red Smith Award for lifetime achievement. After bestselling memoir Finding Chika and "Human Touch," the weekly serial written and published online in real-time to raise funds for pandemic relief, his latest work is a return to fiction with The Stranger in the Lifeboat (Harper, November 2021). He founded and oversees SAY Detroit, a consortium of nine different charitable operations in his hometown, including a nonprofit dessert shop and food product line to fund programs for Detroit's most underserved citizens. He also operates an orphanage in Port-Au-Prince, Haiti, which he visits monthly. He lives with his wife, Janine, in Michigan. Learn more at www.mitchalbom.com, www.saydetroit.org, and www.havefaithaiti.org.
Praise For…
---
"Albom's gift for storytelling continues to shine in this sequel." — Library Journal
"[Albom's] new novel offers unexpected twists and clever turns that will delight his passionate fans." — AARP Magazine
"Fans of the first book will have plenty to appreciate here." — Publishers Weekly
"It's a tale filled with joy, heart and wisdom, and it's a reminder to cherish those we love most." — Woman's World Magazine