Dearly: New Poems (Paperback)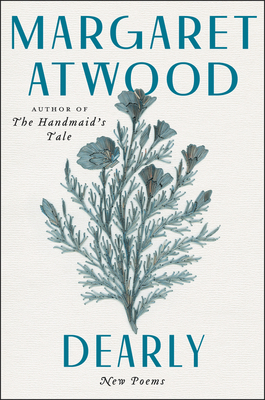 Description
---
A new book of poetry from internationally acclaimed, award-winning and bestselling author Margaret Atwood
In Dearly, Margaret Atwood's first collection of poetry in over a decade, Atwood addresses themes such as love, loss, the passage of time, the nature of nature and - zombies. Her new poetry is introspective and personal in tone, but wide-ranging in topic. In poem after poem, she casts her unique imagination and unyielding, observant eye over the landscape of a life carefully and intuitively lived.

While many are familiar with Margaret Atwood's fiction—including her groundbreaking and bestselling novels The Handmaid's Tale, The Testaments, Oryx and Crake, among others—she has, from the beginning of her career, been one of our most significant contemporary poets. And she is one of the very few writers equally accomplished in fiction and poetry.  This collection is a stunning achievement that will be appreciated by fans of her novels and poetry readers alike.
About the Author
---
Margaret Atwood, whose work has been published in more than forty-five countries, is the author of over fifty books, including fiction, poetry, critical essays, and graphic novels. In addition to The Handmaid's Tale, now an award-winning television series, her works include Cat's Eye, short-listed for the 1989 Booker Prize; Alias Grace, which won the Giller Prize in Canada and the Premio Mondello in Italy; The Blind Assassin, winner of the 2000 Booker Prize; The MaddAddam Trilogy; The Heart Goes Last; Hag-Seed; The Testaments, which won the Booker Prize and was long-listed for the Giller Prize; and the poetry collection Dearly. She is the recipient of numerous awards, including the Peace Prize of the German Book Trade, the Franz Kafka International Literary Prize, the PEN Center USA Lifetime Achievement Award, and the Los Angeles Times Innovator's Award. In 2019 she was made a member of the Order of the Companions of Honour in Great Britain for her services to literature. She lives in Toronto.
Praise For…
---
"Aging, rituals, and the environment are a few topics [Atwood] spins her magic yarn around in this structurally creative, soulfully stirring slim tome. . . . We need [Atwood], now." — Good Morning America
"Margaret Atwood deserves an adjective - Atwoodian - in recognition of her virtuoso wit and unmistakeable style."
— Chicago Tribune
"Atwood's new book—her first collection of poems in over a decade—is a good reminder of her mastery of the craft. In Dearly, Atwood's inspirations run the gamut from the intoxicating pleasures of nature to the fantastical goings-on of zombies, but the themes are grounded in the familiar: love, loss, desire and the inevitability of time passing. Atwood blurs the lines of what we know and asks us instead to give credence to what we feel." — Time
"It is sometimes debated whether every great novelist must first be a great poet. If you look at the likes of poets-turned-novelists like Jesse Ball or Denis Johnson, you might be inclined to agree. Don't forget Margaret Atwood, who began publishing poetry in the early-1960s, self-publishing her first collection, Double Persephone, in 1961. Her latest poems collected in Dearly include melancholy meditations on life and death and the gender of werewolves." — Wall Street Journal
"For the first time in more than a decade, Atwood — an accomplished poet, though best known for "The Handmaid's Tale," among other novels — is releasing a wide-ranging new collection of poetry. It's hauntingly beautiful, with reflections on life and death, time and change, and nature and zombies. The strong imagery and atmosphere will probably hook even those who had only been familiar with Atwood's fiction." — Washington Post
"Atwood's flare for precise metaphor in no way softens her delivery. . . . Combining the wit of Dorothy Parker with the wisdom of Emily Dickinson, Atwood adds a steely grace and richness of her own. If there is beauty in despair, one may find it here." — Library Journal (starred review)
"Atwood's first books were poetry collections; decades later, she infuses her newest poems with the flinty wit and surefire lucidity readers cherish in her best-selling, influential fiction, including The Testaments. Spiked with surprising juxtapositions and wily delight in language, at times mordant, frequently hilarious, and always unflinching."  — Booklist
"The soaring quality of the verse itself . . . [is] always illuminated by characteristic flashes of brilliance and wit, and powered by a pure force of creative energy. . . . Atwood's poetry is vibrant with purpose, brilliant, hard-edged, and instantly legible; and they will doubtless become classics of our troubled time." — The Scotsman
"Atwood... returns with a sardonic and sagacious masterpiece to add to her significant oeuvre...Atwood has a knack for creating piquant emotional textures, infusing ideas, experiences, and objects with palpable life...Combining dignified vulnerability, lyrical whimsy, and staunch realism, Atwood offers a memorable collection that emboldens readers to welcome disillusionment." — Publishers Weekly (starred review)
"Here we see Atwood at the height of her poetic powers...The more Atwood wields specifics, the more of the world she skewers with her fantastically sharp imagination." — New York Times Book Review