The Weight of Blood (Hardcover)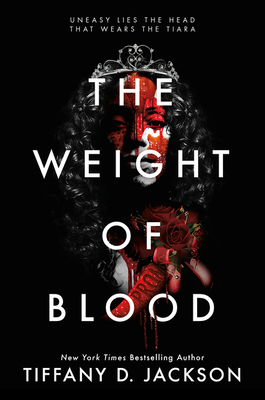 September/October 2022 Kids Indie Next List
---
"With Carrie as a jumping off point, this is no pale imitation. The original comes through in the misery of being a high school outcast, the immediate horror of abuse, and the insidious horror of institutionalized racism. One heck of a good read."
— Kristin Richland, Phoenix Books Essex, Essex Junction, VT
Description
---
* AN INSTANT NEW YORK TIMES BESTSELLER * INDIE BESTSELLER * JUNIOR LIBRARY GUILD SELECTION * KIDS' INDIE NEXT LIST PICK * NPR BEST PICK * KIRKUS BEST BOOK OF THE YEAR *
New York Times bestselling author Tiffany D. Jackson ramps up the horror and tackles America's history and legacy of racism in this suspenseful YA novel following a biracial teenager as her Georgia high school hosts its first integrated prom.
When Springville residents—at least the ones still alive—are questioned about what happened on prom night, they all have the same explanation . . . Maddy did it.
An outcast at her small-town Georgia high school, Madison Washington has always been a teasing target for bullies. And she's dealt with it because she has more pressing problems to manage. Until the morning a surprise rainstorm reveals her most closely kept secret: Maddy is biracial. She has been passing for white her entire life at the behest of her fanatical white father, Thomas Washington.
After a viral bullying video pulls back the curtain on Springville High's racist roots, student leaders come up with a plan to change their image: host the school's first integrated prom as a show of unity. The popular white class president convinces her Black superstar quarterback boyfriend to ask Maddy to be his date, leaving Maddy wondering if it's possible to have a normal life.
But some of her classmates aren't done with her just yet. And what they don't know is that Maddy still has another secret . . . one that will cost them all their lives.
About the Author
---
Tiffany D. Jackson is the New York Times bestselling author of Allegedly, Monday's Not Coming, Let Me Hear a Rhyme, Grown, White Smoke, The Weight of Blood, and coauthor of Blackout and Whiteout. A Walter Dean Myers Honor Book and Coretta Scott King–John Steptoe New Talent Award winner, she received her bachelor of arts in film from Howard University, earned her master of arts in media studies from the New School, and has over a decade of TV and film experience. The Brooklyn native still resides in the borough she loves. You can visit her at www.writeinbk.com.
Praise For…
---
"Jackson's expert reshaping of this tale highlights the genuine horrors of both internalized and externalized anti-Blackness. Horror done right." — Kirkus Reviews (starred review)
"Jackson skillfully explores internalized and externalized anti-Blackness in this striking horror novel. Bone-chilling. Expertly utiliz[es] current true-crime fanaticism to form a powerfully socially conscious narrative that showcases the intense structural racism still inherent in society." — Publishers Weekly (starred review)
"Jackson's nod to Stephen King's Carrie incorporates racially charged social justice themes into a narrative featuring her signature twisty suspense. Supernatural portions of the book are explosive and riveting, with the racist realistic parts are even more horrifying. Readers will be hooked from page one of Maddy's intense journey that detonates on prom night." — School Library Journal (starred review)
"A brilliant deconstruction of Stephen King's Carrie." — BookPage (starred review)
"This reimagining of King's Carrie is a thrilling, unflinching horror narrative that takes on colorism, racism, classism, microaggressions, white saviorism, and respectability politics." — The Horn Book
"Smart and unsettling retelling of Carrie." — Booklist
PRAISE FOR WHITE SMOKE: "Jackson conjures horrors both supernatural and otherwise in a masterful juxtaposition of searing social commentary and genuinely creepy haunts, as well as providing an authentic portrayal of tensions within a blended family. Begs to be finished in one sitting, though maybe with the lights kept on." — Kirkus Reviews (starred review)
"Jackson delivers multilayered frights in a true horror tradition, peppered with instantly recognizable references to urban legends and internet horror culture." — Publishers Weekly
"The nuanced depiction of Mari's struggle with mental health is emotionally resonant; the story of a mostly Black city nearly wiped out by draconian drug laws and gentrification is authentic and timely; and the simmering tension and jump scares make the horror element satisfyingly chilling... Jackson ticks off the best tropes of horror here with enthusiastic glee, and Ms. Suga will have more than a few readers checking their basements before bedtime." — Bulletin of the Center for Children's Books
PRAISE FOR GROWN: "Gripping in both its content and format . . . Jackson's writing some of the best thrillers for teens these days." — Booklist (starred review)
"Expertly juxtaposing the glamour of Enchanted's potential fame against the harshness of her private moments with Korey, Jackson builds the story gradually and painfully to an astonishing, chilling climax." — Publishers Weekly (starred review)
"Compelling; Jackson excels in writing books steeped in social commentary." — Kirkus Reviews
"In another ripped-from-the-headlines novel, Jackson takes readers through a heart-pounding thriller exploring physical, sexual, and emotional abuse, misogynoir, and rape culture... this novel is sure to initiate important conversations while delivering an engrossing story." — Horn Book Magazine
PRAISE FOR LET ME HEAR A RHYME: "Exceptional storytelling, well-crafted, true-to-life dialogue, and the richly drawn Brooklyn landscape will draw readers into this fast-paced blend of mystery, budding romance, and social commentary . . . Thoroughly engrossing and as infectious as Steph's lyrics." — Kirkus Reviews (starred review)
"This YA novel harmonizes music and prose to create a certified literary banger." — Shelf Awareness
"Readers will feel connected to these teens' love of hip-hop, their loyalty to each other and their love for their community . . . offers moving portraits of young people . . . an engaging ode to '90s hip-hop and to love in many forms." — BookPage
"With thoughtful attention to detail, Jackson offers a believable cast of Black teens immersed in a particularly rich hip-hop moment. The combination of lyricism and narrative realism is an effective mode of representing a particular sort of adolescence against the backdrops of New York City and rap music." — Bulletin of the Center for Children's Books
"Jackson presents a fast-moving, heart-pounding homage to nineties hip-hop, Brooklyn, and the power of music, love, and friendship. Readers are transported to a time when DJs and MCs rocked the parties and when word-of-mouth could make you a star." — Horn Book Magazine
"A thrilling, heart-rending, unforgettable novel." — Buffalo News
PRAISE FOR MONDAY'S NOT COMING: "This thought-provoking thriller examines issues such as abuse, gentrification, and the marginalization of people of color with nuance and sensitivity. The narrative deftly moves back and forth between past and present, building to a devastating conclusion. A spellbinding, profoundly moving choice for YA collections." — School Library Journal (starred review)
"Jackson's sophomore novel features another ripped-from-the-headlines premise that will keep readers guessing through the final pages. Jackson's characters and their heart-wrenching story linger long after the final page, urging readers to advocate for those who are disenfranchised and forgotten by society and the system." — Publishers Weekly (starred review)
"Jackson effortlessly weaves elements of suspense with issues of race, class, and gender, casting a harsh light on a world that often refuses to notice the disappearances of black and brown girls. The twist at the end is both gaspworthy and heartbreaking." — Bulletin of the Center for Children's Books (starred review)
"Jackson doesn't hold anything back when it comes to the pain of abuse and the ramifications of turning a blind eye. It's a frank, devastating read filled with real and flawed characters, and it's a story that needs to be read." — Booklist
"The draw of this novel, which was inspired by actual events, lies in its interwoven themes of the effects of gentrification, especially on black residents whose connections, culture, and community become afterthoughts in the face of capitalism. A tragic and heartbreaking tale of love, loss, grief, growth, and perseverance." — Kirkus Reviews
PRAISE FOR ALLEGEDLY: "With remarkable skill, Jackson offers an unflinching portrayal of the raw social outcomes when youth are entrapped in a vicious cycle of nonparenting and are sent spiraling down the prison-for-profit pipeline. Dark, suspenseful." — School Library Journal (starred review)
"The characters are complex, the situation unsettling, and the line between right and wrong hopelessly blurred. It's also intensely relevant, addressing race, age, and mental illness within the criminal justice system. Well conceived and executed, this is an absorbing and exceptional first novel." — Publishers Weekly (starred review)
"Suspenseful without being emotionally manipulative, compelling without resorting to shock value, this is a tightly spun debut that wrestles with many intense ideas and ends with a knife twist that will send readers racing back to the beginning again." — Booklist (starred review)
"Seen through Jackson's dark portrait of the legal system and the failures of parents and social workers, Mary's environments are as grim as the stories that play out in them; readers fascinated by procedural dramas will be thoroughly hooked." — Bulletin of the Center for Children's Books