The Last Beekeeper (Hardcover)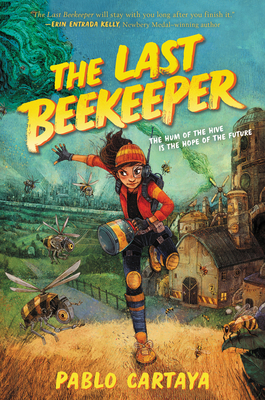 Description
---
Facing a world dually altered by climate change and those who profit from it, Yolanda Cicerón will have to fight to save the last known beehive from extinction in this stirring new adventure by award-winning author Pablo Cartaya.
In a future shaken by climate disasters, Yolanda Cicerón knows that nature is something to be feared. While life in the Valley is brutal and harsh, Yoly dreams of leaving her farm to live in Silo—the most advanced town for miles around. But first, Yoly will need to prove she belongs in a place where only the smartest and most useful are welcomed.
Between her razor-sharp smarts and sheer determination, Yoly is well on her way until she discovers her family can no longer afford her schooling. When forced to take matters into her own hands, the closer she gets to securing her future, the more she uncovers the dangers lying inside Silo's walls—ones that threaten the entire Valley. 
As she cracks long-guarded secrets, Yoly, along with those closest to her, is put in grave peril and the only chance of surviving may lie in the rediscovery of a long-extinct species—the honeybee. Can the last surviving beehive be the key to pulling the Valley out from under Silo's thumb, or will they destroy what remains of Yoly's future? 
About the Author
---
Pablo Cartaya is an award-winning author, screenwriter, speaker, and occasional actor. He is the Pura Belpré Honor Book Award winner for The Epic Fail for Arturo Zamora; an Audie finalist for Audiobook of the Year in the middle grade category (for which he narrated); an ALSC notable book of the year for Marcus Vega Doesn't Speak Spanish; and the 2020 Schneider Family Book Award Honor winner for his middle grade novel Each Tiny Spark. His newest title, The Last Beekeeper, contemplates a future where bees are central to a rebuilding world. His novels focus on the themes of family, community, culture, and the environment. He lives in the hyphens between his Cuban and American identities and with his familia in Miami. Visit him at pablocartaya.com 
Praise For…
---
"An action-packed adventure that reflects our own mistakes and predicts our fears for the future. Highly recommended for middle school readers who enjoy dystopian adventures and science." " — School Library Journal (starred review)
"Readers will root for Yoly, who is as kind and brave as she is smart, in this page-turning story that deals with all-too-relevant themes. An insightful, action-packed, and thought-provoking adventure." — Kirkus Reviews
"Cartaya's quick-moving plot pairs well with Yoly's lively voice, highlighting themes of resistance, communal and ecological interdependence, and a shared responsibility to nature that's sure to leave readers buzzing." — Publishers Weekly
"A middle-grade dystopian story with well-written female characters and interesting world building, this appealing title teaches readers that one person can make all the difference in creating positive change." — Booklist
"Perfect for readers interested in dystopian literature and climate fiction, this is a stirring exploration of the connections between technology, nature, and humanity." — Horn Book Magazine
"The Last Beekeeper will stay with you long after you finish it. Yolanda gives us a glimpse into a terrifying future, but she also reminds us that we have everything we need to make our world a better place." — Erin Entrada Kelly, author of Hello, Universe, winner of the Newbery Medal, and We Dream of Space
"The Last Beekeeper will sting readers from page one and leave them buzzing for more! A timely and thrilling adventure with a message that inspires hope for a greener tomorrow." — Ryan Calejo, author of the Charlie Hernández series