Lola on Fire: A Novel (Hardcover)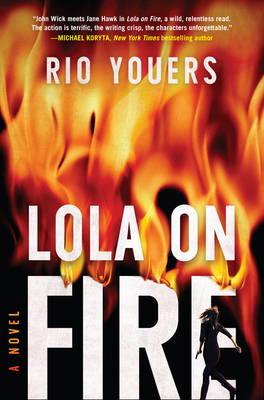 Staff Reviews
---
Lola on Fire reads like a cinematic action movie distilled onto the page. But while it opens with a heart-pounding fight scene worthy of Tarantino, it quickly evolves into an intricate cat-and-mouse game involving a desperate brother and sister on the run, a vengeful mobster, and a woman with a deadly track record. It all begins with Brody mistakenly thinking that one harmless robbery would be enough to get him and his disabled sister back on their feet. His bungled attempt forces him to partner with an attractive young woman in a more dangerous plan—a plan he now realizes was more diabolical than he imagined as he now must try to stay one step ahead of a cold-blooded killer.
— From
Elaine & Luisa's Picks: Winter 2021
Description
---
Arthur Ellis Award finalist Rio Youers combines vengeance and deceit, love and bullets, secrets, and twists in this high-octane action thriller with a vibrant emotional core.

Brody Ellis is short on luck and even shorter on cash to buy the medication his sister Molly needs.
Desperate, he robs a convenience store, but on the way out, he bumps into a young woman and loses his wallet. Just when he expects the cops to arrive, the phone rings. It's Blair Mayo—the woman he bumped into—and she's got the missing billfold.
Brody will get it back, but only if he does her a favor: steal her late mother's diamonds from her wicked stepmom. But when he gets to the house, he finds a gruesome crime scene—and a security camera. Brody knows he's been framed.
Back home, the terrified young man gets another call. The police won't get the incriminating video footage, Blair says. Instead, her daddy, the notorious mobster Jimmy Latzo, will exact his own kind of revenge. 
Brody and Molly realize that they've become pawns in a mysterious game—one that involves a notorious enforcer named Lola Bear who brutally crossed paths with Jimmy Latzo twenty-six years before. . . a ghost from the past who is intimately connected to their lives.
About the Author
---
Rio Youers is the British Fantasy and Sunburst Award–nominated author of Westlake Soul and Halcyon. His 2017 thriller, The Forgotten Girl, was a finalist for the Arthur Ellis Award for Best Crime Novel. He is the writer of Sleeping Beauties, a comic book series based on the bestselling novel by Stephen King and Owen King. Rio lives in Ontario, Canada with his wife and their two children.
Praise For…
---
"John Wick meets Jane Hawk in Lola on Fire, a wild, relentless read. The action is terrific, the writing crisp, the characters unforgettable."
— New York Times bestselling author Michael Koryta

"Lola on Fire serves up all the gonzo action, quotable lines, and unforgettable characters a reader could want, in a novel that rivals Killing Eve in intensity and atmosphere."
— #1 New York Times bestselling author Joe Hill

"[A] dizzyingly plotted thriller . . . the novel motors on at blinding speed, incorporating broken families, bottomless desire for revenge, and a denouement that makes the Saint Valentine's Day Massacre seems like mere trifle. What sticks with me, though, are the quiet moments, where the wounds of long-ago personal sacrifices have room to heal."
— New York Times Book Review

"What a ride! Lola on Fire is a witty, impeccably crafted, and deliriously fun thriller with a furiously beating heart. Rousing action and killer pacing, powered by characters you'll love who possess the ass-kicking skills of the John Wick universe yet are still grounded with real humanity. Don't miss it."
— Taylor Adams, author of No Exit

"[A] rocket-fueled crime thriller . . . . Fans of full-throttled cinematic action-fests of the Long Kiss Goodnight variety are in for a treat."
— Publishers Weekly

"A story of sacrifice, redemption and forgiveness. . . . The book's pages turn so quickly that you will singe your eyebrows and a couple of other places as you're reading, but you'll love every minute of it."

— Bookreporter.com

"Lola on Fire sizzles and scorches like fresh steak slapped on a red-hot grill. . . . . How often does a ferocious action thriller gather your emotions in a net and haul them to the surface writhing and shiny? What was the last novel to kick-start your brain and your pulse at the same time? Cross Elmore Leonard with Lisa Gardner and you get Rio Youers."      
— A. J. Finn, #1 New York Times bestselling author of The Woman in the Window.