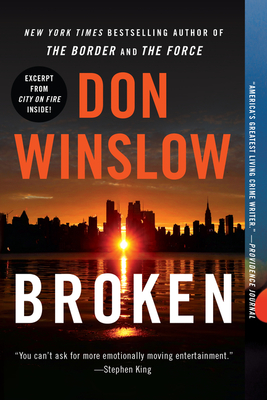 Description
---
Includes "Crime 101," "Broken," and "The Last Ride" – all soon to be major motion pictures!
"One of America's greatest storytellers." – Stephen King

"Winslow, whose work includes a dozen of the finest crime novels written in the last 20 years, displays all of his strengths, including propulsive narration, compelling characters and a tight, staccato writing style, in 'Broken,' a collection of six remarkable novellas." – Bruce De Silva, Associated Press
No matter how you come into this world, you come out broken . . . 
In six intense short novels connected by the themes of crime, corruption, vengeance, justice, loss, betrayal, guilt and redemption, Broken is #1 international bestseller Don Winslow at his nerve-shattering, pulse-pounding, heartbreaking best. In Broken, he creates a world of high-level thieves and low-life crooks, obsessed cops struggling with life on and off the job, private detectives, dope dealers, bounty hunters and fugitives, the lost souls driving without headlights through the dark night on the American criminal highway.
With his trademark blend of insight, humanity, humor, action, and the highest level of literary craftsmanship, Winslow delivers a collection of tales that will become classics of crime fiction.
"With the passing of Elmore Leonard a few years back, it's now safe to proclaim Winslow America's greatest living crime writer. His consistency is matched only by his creativity, his talent exceeded by his ability to surpass himself time and time again." – Jon Land, Providence Journal
About the Author
---
Don Winslow is the author of twenty-three acclaimed, award-winning international bestsellers, including six New York Times bestsellers (Savages, The Kings of Cool, The Cartel, The Force, The Border and City on Fire). Savages was made into a feature film by three-time Oscar-winning writer-director Oliver Stone and a screenplay by Shane Salerno, Winslow and Stone. Winslow's epic Cartel trilogy has been adapted for TV and will appear as a weekly series on FX in 2023. The Force is soon to be a major motion picture from 20th Century Studios starring Matt Damon with James Mangold directing from a Scott Frank screenplay. Additional Winslow books are currently in development at Netflix, Warner Brothers, Sony and Working Title and he has recently written a series of acclaimed short stories for Audible narrated by four-time Oscar nominee Ed Harris.
Praise For…
---
"A master of thrills shows his range, and his bite . . . [Winslow is] a writer from whom others can learn the ropes." — Janet Maslin, New York Times
"Winslow, whose work includes a dozen of the finest crime novels written in the last 20 years, displays all of his strengths, including propulsive narration, compelling characters and a tight, staccato writing style, in "Broken," a collection of six remarkable novellas." — Bruce De Silva, Associated Press

"This is an outstanding sextet in which – praise be! – 'love and loyalty trump the law.' It is fast, furious, and very funny."  — The Times [London]
"Don Winslow has made his name with propulsive thrillers about drug lords, corrupt cops, retired hit men, and surfer-outlaws. His brisk, colorful prose and artful shorthand, showcased in 2019's The Border, shine in this collection of six novellas." 
— New York Magazine
"Recently, lengthy blockbusters such as The Border have secured [Winslow's] place in the upper echelons of American crime writing. . . . Winslow proves to be as adroit with these forms as with his arm-straining epics . . . . In pared-down Hemingway-esque prose, every one of these pieces is top-drawer Winslow — and they will do nicely until the next hefty tome." — Financial Times
"After three epic-scale masterpieces—The Cartel (2015), The Force (2017), and The Border (2019)—Winslow returns with a delicious serving of small plates. . . . A greatest-hits album but with all-new melodies: what could be sweeter?!" — Booklist [starred review]
"Fans of the author will eat up these neat, taut, action-packed stories, told in staccato sentences and one-line paragraphs." — Library Journal
"Exhibiting a remarkable range, [Winslow is] just as good at sprints as long distances, is as adept at mimicking screwball capers as mobster movies, and can charm as well as chill. . . . A dazzling display of versatility, this set of novellas shows Winslow to be an author who has hit his prime."  — The Sunday Times (UK)
"With the passing of Elmore Leonard a few years back, it's now safe to proclaim Winslow America's greatest living crime writer. His consistency is matched only by his creativity, his talent exceeded by his ability to surpass himself time and time again." — Jon Land, Providence Journal
"One of the masters of mystery and thriller, Don Winslow's latest volume is a reading bonanza: a collection of six crime-focused short novels . . . that riffs off the genre with technical virtuosity, building to a staggering immersion in the possibilities of the form. It's a hugely enjoyable crash course in the chameleon-like possibilities of crime."  — The Arts Desk (UK)
"A great collection of short crime fiction." — Kirkus Reviews [starred review]
"Entertaining . . . . All six yarns feature Mr. Winslow's talent for narrative thrust and linguistic economy."  — Pittsburgh Post-Gazette
"Broken will make you laugh and cry, but in the end will explain why The New York Times thinks Winslow is simply 'the greatest.' . . . He crafts every sentence until it beats to a rhythm of its own. . . . Broken is devastating and brilliant." — Sydney Morning Herald
"Broken is a masterful collection from a writer at the peak of his powers." — Daily Express (UK)
"While Winslow is in widely fluent in many different prose techniques — from the twisty punchline felonies of Elmore Leonard and Robert B. Parker to the rebop riffs of James Ellroy to mega-works of dark literature a la Cormac McCarthy and James Lee Burke — he's not "copying" anyone. He's writing his OWN masterpieces and just happens to do so in the fashion appropriate to the work. . . . Every piece in Broken is a winner and compellingly different."  — The Day (CT)
"Winslow [is] a writer known for the emotive intensity of his storytelling." — Marilyn Stasio, New York Times Book Review
"Told with great style, this is one of my favorite books of the year."  — Daily Mail (UK)
"The six little doses of crime fiction here run the gamut from gritty, bloody thrillers to a humorous encounter with a gun-wielding chimpanzee. . . . Time and again, Winslow creates deeply believable characters by highlighting their desires and the setbacks to fulfilling those desires — goals to which readers can easily relate."  — Nashville Scene
"If you're a Don Winslow fan – and of course you are – you've surely been waiting for reunions with Ben and Chon or the Dawn Patrol, that Hemi V-8 elegy to Highway 101, or a border-crossing saga to match the author's ferocious anti-Trump Twitter feed. You just never imagined they'd arrive in the same 335-page package. . . . An arresting set of six short novels."  — The Oregonian