Arriving Today: From Factory to Front Door -- Why Everything Has Changed About How and What We Buy (Hardcover)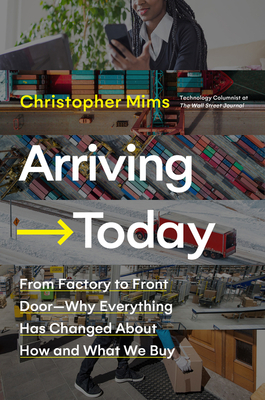 $29.99

Usually Ships in 1-5 Days
Description
---
Shortlisted for the 2021 Porchlight Business Book Awards, Current Events & Public Affairs
The Wall Street Journal technology columnist reveals the fascinating story behind the misleadingly simple phrase shoppers take for granted—"Arriving Today"—in this eye-opening investigation into the new rules of online commerce, transportation, and supply chain management.
We are at a tipping point in retail history. While consumers are profiting from the convenience of instant gratification, rapidly advancing technologies are transforming the way goods are transported and displacing workers in ways never before seen.
In Arriving Today, Christopher Mims goes deep, far, and wide to uncover how a single product, from creation to delivery, weaves its way from a factory on the other side of the world to our doorstep. He analyzes the evolving technologies and management strategies necessary to keep the product moving to fulfill consumers' demand for "arriving today" gratification. Mims reveals a world where the only thing moving faster than goods in an Amazon warehouse is the rate at which an entire industry is being gutted and rebuilt by innovation and mass shifts in human labor practices. He goes behind the scenes to uncover the paradoxes in this shift—into the world's busiest port, the cabin of an 18-wheeler, and Amazon's automated warehouses—to explore how the promise of "arriving today" is fulfilled through a balletic dance between humans and machines. 
The scope of such large-scale innovation and expended energy is equal parts inspiring, enlightening, and horrifying. As he offers a glimpse of our future, Mims asks us to consider the system's vulnerability and its resilience, and who shoulders the burden, as we hurtle toward a fully automated system—and what it will mean when we are there.
About the Author
---
Christopher Mims writes Keywords, a weekly technology column, for the Wall Street Journal. Before joining the Journal in 2014, he was the lead technology reporter for Quartz, and has written on science and tech for MIT Technology Review, Smithsonian, Wired, Atlantic, and Scientific American, among other outlets. He has a degree in neuroscience and behavioral biology from Emory University and lives in Baltimore, Maryland.
Praise For…
---
"Wall Street Journal technology columnist Mims chronicles a product's journey from manufacturer to doorstep in his timely debut. . . . Readers will be hooked by Mims's ability to turn what could've been a dry supply-chain explainer into a legitimate page-turner. For those interested in what goes on before packages arrive at their door, this is a no-brainer." — Publishers Weekly (starred review)
"Mims writes in a digestible style that conveys a pleasing you-are-there quality, and he does not shy away from describing the vast economic inequalities involved in the movement of commodities and the indifference of many managers toward their workers . . . A surprisingly absorbing foray into the optimization of product flow." — Kirkus Reviews
"Mims will have readers enthralled with the minutiae of what he calls a 'sophisticated field of human endeavor.' This book will appeal to general audiences and those in any part of the industry." — Booklist
"A detailed and dedicated explainer about the state of the logistics industry, Arriving Today by Wall Street Journal tech columnist Christopher Mims offers a snapshot of a logistics industry in flux. The world described in the book is a marvel of human ingenuity . . . a world that, because of the pace of change in the industry, is likely to be unrecognizable in five years' time." — strategy+business
Our global economy runs on logistics. Mims expertly demystifies this secretive science as he vividly portrays the ways in which it often robs the most vulnerable workers of their health and humanity. — Brad Stone, author of The Everything Store and Amazon Unbound
With the elegance and efficiency of a first-rate tech journalist, Mims leads us into the nooks and crannies, robots, AI, warehouses, and ships that are highly complex so as to make our daily life simple. A must-read. — Scott Galloway, professor of marketing at NYU Stern School of Business and author of Four and The Algebra of Happiness
A meticulously and presciently rendered account of the surprising journey of a USB charger from the factory to my home. It's nice to get your stuff fast. But Mims asks us to ponder, Was it worth it? — Steve LeVine, author of The Powerhouse
Adeptly draws us into the container ships, fulfillment centers, and algorithms that deliver us what we want, when we want it. A balanced, much-needed account. — Robert Kanigel, author of The One Best Way and Hearing Homer's Song
Mims elegantly explores the micro and the macro of how our modern world of stuff works, in a way that illuminates, dazzles, and sometimes terrifies. — Rose George, author of Ninety Percent of Everything, Nine Pints, and The Big Necessity
A backstage pass into the twenty-first-century global economy, Arriving Today is the resource for understanding how modern supply chains really work—and why they sometimes fail. — Ryan Petersen, CEO of Flexport
Finally, a book that sheds light on automation, logistics, and their impact on our everyday life today, and in the future. An engaging and insightful narrative. — Oren Etzioni, professor emeritus at the University of Washington and CEO of the Allen Institute for Artificial Intelligence
Arriving Today is the essential key to understanding how our world is getting smaller and more interconnected by the day. — Gary Tan, cofounder of Initialized Capital