September 1, 1939: A Biography of a Poem (Hardcover)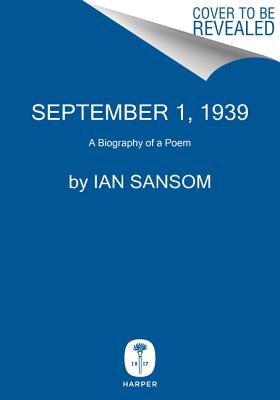 for information about purchasing this book, please contact orders@bookpassage.com
Description
---
One poet, his poem, New York City, and a world on the verge of change.

W. H. Auden, a wunderkind, a victim-beneficiary of a literary cult of personality, became a scapegoat and a poet-expatriate largely excluded from British literary history because he left. And his poem, "September 1, 1939," was his most famous and celebrated, yet one which he tried to rewrite and disown and which has enjoyed—or been condemned—to a tragic and unexpected afterlife.
These are the contributing forces underlying Ian Sansom's work excavating the man and his most celebrated piece of literature. But Sansom's book is also about New York City: an island, an emblem of the Future, magnificent, provisional, seamy, and in 1939—about to emerge as the defining twentieth-century cosmopolis, the capital of the world.
And so it is also about a world at a point of change—about 1939, and about our own Age of Anxiety, about the aftermath of September 11, when many American newspapers reprinted Auden's poem in its entirety on their editorial pages.
More than a work of literary criticism or literary biography, this is a record of why and how we create and respond to great poetry.
About the Author
---
Ian Sansom is the author of 10 books of fiction and non-fiction. He is a former Fellow of Emmanuel College, Cambridge and a former Writer-in-Residence at the Seamus Heaney Centre for Poetry in Belfast. He is currently a Professor in the Department of English and Comparative Literary Studies at the University of Warwick. He is a regular broadcaster on BBC Radio 4 and Radio 3 and he writes for The Guardian and The London Review of Books.
Praise For…
---
"Poetry lovers and readers intrigued by Auden and his considerable influence will have a rollicking time with this entertaining yet earnest tome." — Booklist (starred review)
"September 1, 1939, the book, is a deeply informed and unapologetically digressive dive into Auden's life, as well as into the life of this singular poem. Along the way, we readers hear a good deal of nattering about Sansom's own life: how, for instance, his sister in Australia thinks he should buy a barbecue grill, or how he, unlike Auden, lasted only two weeks on a misbegotten pilgrimage to New York City. Sansom says of Auden, the poet, that he's 'a terrible fidget. It's what makes [his] poems entertaining, and infuriating.' Much the same can be said of Sansom, the fidgety critic." — Maureen Corrigan, NPR's Fresh Air
"[Sansom's] richly entertaining book explores what goes on in the poem and why it has had such an impact." — The Guardian
Coverage from NPR