The Color of Air: A Novel (Hardcover)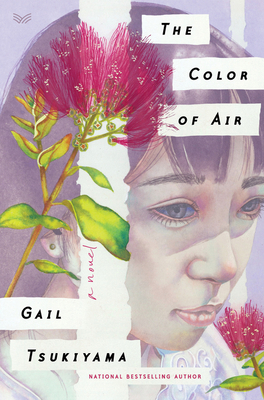 $26.99

Usually Ships in 1-5 Days
Description
---
PARADE's Best Books to Read this Summer
"A rich historical novel that illustrates why connection is more important and more vital than ever." -New York Times bestselling author Lisa See

Daniel Abe, a young doctor in Chicago, is finally coming back to Hawai'i. He has his own reason for returning to his childhood home, but it is not to revisit the past, unlike his Uncle Koji. Koji lives with the memories of Daniel's mother, Mariko, the love of his life, and the scars of a life hard-lived. He can't wait to see Daniel, who he's always thought of as a son, but he knows the time has come to tell him the truth about his mother, and his father. But Daniel's arrival coincides with the awakening of the Mauna Loa volcano, and its dangerous path toward their village stirs both new and long ago passions in their community.
Alternating between past and present—from the day of the volcano eruption in 1935 to decades prior—The Color of Air interweaves the stories of Daniel, Koji, and Mariko to create a rich, vibrant, bittersweet chorus that celebrates their lifelong bond to one other and to their immigrant community. As Mauna Loa threatens their lives and livelihoods, it also unearths long held secrets simmering below the surface that meld past and present, revealing a path forward for them all.
About the Author
---
Gail Tsukiyama was born in San Francisco, California, to a Chinese mother from Hong Kong and a Japanese father from Hawaii. She attended San Francisco State University where she earned her Bachelor of Arts Degree and a Master of Arts Degree in English. She is the bestselling author of several novels, including Women of the Silk and The Samurai's Garden, as well as the recipient of the Academy of American Poets Prize and the PEN Oakland/Josephine Miles Literary Award. She divides her time between El Cerrito and Napa Valley, California.
Praise For…
---
"Lushly written, this is a story of family ties, immigration, resilience and home."  — Ms. magazine
"The Color of Air is quintessential Tsukiyama, generous in spirit, gorgeously written, and full of secrets and surprises.  Every character in this ensemble novel is as compelling and appealing as the next and together they lead the reader into the beating heart of this tight-knit community.  A stupendous work." — Karen Joy Fowler, New York Times bestselling author of We Are All Completely Beside Ourselves and Winner of the PEN/Faulkner Award 
"With a piercing and authentic sense of place, Gail Tsukiyama brings to life a group of ordinary Japanese/Hawaiians with intertwined lives that are filled with love, passion, empathy, wisdom, and joy. Life is hard, but it is not hopeless and in the shadow of the volcano Mauna Loa, unforgettable individuals--drawn by the author with tenderness and in vivid detail--contend with the pain and confusion of the past and the fleeting moments of  happiness in the present, letting go of both pain and fear in order to meet the future." — Elizabeth George, #1 New York Times bestselling author
"In The Color of Air, Tsukiyama has created a community with characters who meet difficulties and persist with grace and endurance; whose dependence on one another is, in fact, their greatest strength. A rich historical novel that illustrates why connection is more important and more vital than ever."  — Lisa See, New York Times bestselling author of The Island of Sea Women and The Tea Girl of Hummingbird Lane
"Tsukiyama's beautiful telling of an island son's homecoming had me under a spell to the last page. The Color of Air pulls you in gently and takes you deep." — Nancy Horan, New York Times bestselling author of Loving Frank and Under the Wide and Starry Sky
"Through tragedy and joy, Tsukiyama crafts characters whose reliance on each other is their greatest strength, with many strong women leading the way. The dialogue flows easily, and the landscape is rendered with such vibrance that the reader will become fully immersed in the sensory details. Well-paced and lush, this is a captivating historical novel that shows the power of love and human resilience." — Kirkus Reviews (starred review)
"Writing with supple and entrancing grace, Tsukiyama has each of her caring, charismatic characters share their memories and heartaches…..Tsukiyama also evokes the wild, opulent beauty of the island, the harsh lives of migrant workers, racist and domestic violence, mystical connections, the repercussions of a love triangle, and the tolls of age. As the volcano erupts, long buried secrets and guilt surge to seismic effect. Tsukiyama's dramatic yet discerningly congenial novel confronts the precariousness of existence and celebrates the healing power of generosity and love."  — Booklist (starred review)
"An intoxicating blend of historical events and fiction, The Color of Air is a richly rewarding reading experience perfect for fans of Lisa See or Isabel Allende, or anyone looking for a magical love story that transcends time." — BookPage
"Tsukiyama's rich and beautifully written exploration of the uncertainty of life and the power of community has timeless appeal." — Publishers Weekly
"Readers in search of stories about the complexity of fellowship, and how it is made and unmade over time, will find much to admire in Tsukiyama's lush novel." — San Francisco Chronicle
"Rich with sensuous detail of island life....In this sumptuous novel, a Depression-era sugar plantation community faces a threatening volcano in the lush seaside town of Hilo, Hawai'i." — Shelf Awareness
"In Gail Tsukiyama's The Color of Air, characters reel in the wake of the Mauna Loa volcanic eruption….Tsukiyama uses this real-life event to great effect, weaving in the beliefs of her characters who think the goddess Pele's anger caused the eruption…. We see that the traditions of Hawai'i need not be subsumed by modernization; Western medicine can coexist with indigenous remedies. We also see that some forms of modernization aren't simply niceties. In The Color of Air, the beauty is in finding the balance." — Washington Post