Cosy: The British Art of Comfort (Hardcover)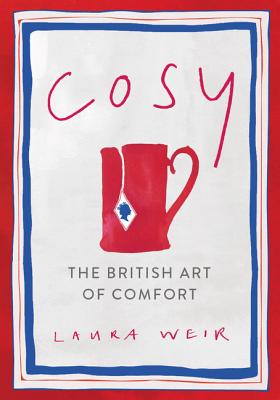 $19.99

Usually Ships in 1-5 Days
Description
---
The Danes have hygge. The Swedes have lagom. Now, Laura Weir, a beloved lifestyle journalist and editor-in-chief of London Evening Standard's weekly ES magazine, introduces American readers to the Brits' best-kept secret—coziness—an indulgent, luxurious, yet unfussy way of creating comfort and joy.

Cosy is "the slacker's guide to staying at home, an antidote to peak frazzle." With trademark Anglo cheekiness, Laura Weir perfectly captures the British essence of cosy. She celebrates socks, warms to the joys of toasty open fires, and extols the virtues of a quiet walk, ultimately enticing us all to create the British magic of cosy in our everyday lives.
With more than 140 whimsical illustrations and interviews with British lifestyle experts, including Melissa Hemsley, Sophie Dahl, and Dolly Alderton, Cosy is a perfect reminder to slow down, have a cuppa, and settle in when life pushes you into overdrive.
About the Author
---
Credited by the New York Times as a "Londoner to know," Laura Weir is the editor-in-chief of London Evening Standard's weekly, ES magazine. She also writes a weekly column for the newspaper, her topics include London life, raising a young child, and never wanting to miss out on anything that life has to offer. She has written for a huge range of national and international titles, and formerly held senior roles at British Vogue and The Times. Laura is on the British Fashion Council's Press Committee and is the co-founder of wearemoody.com, an online platform dedicated to women's mental health and wellbeing. She lives in London.
Praise For…
---
"In breezy chapters complemented by charming illustrations, Weir evangelizes on the joys of quotidian pleasures such as warm feet, warm fires and, obviously, tea. . . . Cosy might be British, but warm, fuzzy feelings are universal. . . . Good for overworked and over-socialized brains." — The Washington Post
"The American market has been inundated with bossy little books in which other countries tell us how to behave. But I'm an Anglophile, and I was drawn to this one. I particularly enjoyed the chapter 'Cosy and Kind,' where Weir indirectly lays out the connection between duty and love." — The New York Times