American Breakdown: Our Ailing Nation, My Body's Revolt, and the Nineteenth-Century Woman Who Brought Me Back to Life (Hardcover)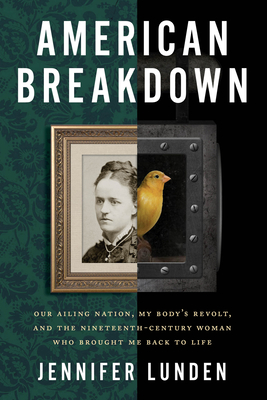 Description
---
A Silent Spring for the human body, this wide-ranging, genre-crossing literary mystery interweaves the author's quest to understand the source of her own condition with her telling of the story of the chronically ill 19th-century diarist Alice James—ultimately uncovering the many hidden health hazards of life in America.
When Jennifer Lunden became chronically ill after moving from Canada to Maine, her case was a medical mystery. Just 21, unable to hold a book or stand for a shower, she lost her job and consigned herself to her bed. The doctor she went to for help told her she was "just depressed."
After suffering from this enigmatic illness for five years, she discovered an unlikely source of hope and healing: a biography of Alice James, the bright, witty, and often bedridden sibling of brothers Henry James, the novelist, and William James, the father of psychology. Alice suffered from a life-shattering illness known as neurasthenia, now often dismissed as a "fashionable illness."
In this meticulously researched and illuminating debut, Lunden interweaves her own experience with Alice's, exploring the history of medicine and the effects of the industrial revolution and late-stage capitalism to tell a riveting story of how we are a nation struggling—and failing—to be healthy.
Although science—and the politics behind its funding—has in many ways let Lunden and millions like her down, in the end science offers a revelation that will change how readers think about the ecosystems of their bodies, their communities, the country, and the planet.
About the Author
---
The recipient of the 2019 Maine Arts Fellowship for Literary Arts and the 2016 Bread Loaf–Rona Jaffe Foundation Scholarship in Nonfiction, Jennifer Lunden writes at the intersection of health and the environment. Her essays have been published in Creative Nonfiction, Orion, River Teeth, DIAGRAM, Longreads, and other journals; selected for several anthologies; and praised as notable in Best American Essays. A former therapist, she was named Maine's Social Worker of the Year in 2012. She and her husband, the artist Frank Turek, live in a little house in Portland, Maine, where they keep several chickens, two cats, and some gloriously untamed gardens.
Praise For…
---
"Deeply researched and meticulously crafted, American Breakdown is at once a damning indictment of the systems shaping our way of life and an engrossing narrative of the lives of two women connected across the centuries. A literary triumph, brimming with righteous anger, empathy, curiosity, and hope." — Olivia Campbell, New York Times bestselling author of Women in White Coats: How the First Women Doctors Changed the World of Medicine
"Part medical mystery, part literary excavation, Jennifer Lunden's intimate and intricate debut chronicles her search for the source of her unexplained chronic illness and the parallels she finds in the biography of Alice James. In the end, Lunden arrives at an explanation for her body's mutiny, but her scalpel-like prose also identifies and resects the illness latent in our entire ailing system—personal, political, planetary…. This mesmerizing book is an essential story for our time, maybe the story." — Ted Genoways, James Beard Award-winning author of The Chain: Farm, Factory, and the Fate of Our Food
"Using herself as an investigative tool, Lunden unspools an incredibly researched story not just of her "mysterious fatigue" but of how a bankrupt healthcare system in a broken country gaslights women about their bodies and minds. A tale that is both enraging and affirming. If you demand answers about anything, let Lunden be your guide." — Kerri Arsenault, winner of the Society of Environmental Journalists' 2021 Rachel Carson Environment Book Award and author of Mill Town
"Jennifer Lunden has written a wide-ranging, fascinating, and deeply personal account of unexplained illness, showing that behind the all-too-common word "unexplained" lie decades of medical failings. By tracing lines of medical epistemology, the impact of research funding, and the proliferation of chemicals in modern life, both in her own life and across historical parallels, she takes on nothing less than the entire Western medical system. Her research is comprehensive, her writing both rousing and riveting. Anyone who has ever felt abandoned by healthcare will find not only comfort in this crucial book, but inspiration to push for change." — Alex Marzano-Lesnevich, 2023 United States Artists fellow and author of The Fact of a Body: A Murder and a Memoir
"Epic in scope and impeccably researched, from wallpaper to junk food to the pharmaceutical industry, and art, Lunden unfolds a personal and historical medical mystery, filled with secret poisons and unexpectedly poignant, relatable moments. American Breakdown offers a vital message of hope and advocacy for our bodies and future." — Emily Maloney, author of Cost of Living
"Deftly moving between the personal and the political, Jennifer Lunden offers both an intimate, affecting account of two women's illnesses and an eye-opening indictment of how American capitalism is harming us all." — Maya Dusenbery, author of Doing Harm: The Truth About How Bad Medicine and Lazy Science Leave Women Dismissed, Misdiagnosed, and Sick
"More than a medical memoir, Lunden's book is a multifaceted exploration of how runaway capitalism, gender bias, and a broken medical system may lead to the collapse of our society. In the tradition of Silent Spring, she lays out a roadmap for revolution." — Kris Newby, author of Bitten: The Secret History of Lyme Disease and Biological Weapons
"An earnest chronicle of the enigma of chronic fatigue syndrome, the byzantine dysfunction of the medical world and the chemicals and pesticides that are making so many of us ill, American Breakdown is told in short, accessible, and interwoven fragments that will be familiar and edifying to anyone who has been sick and tried to find an answer to the painful question, why?" — Caitlin Shetterly, author of the award-winning memoir, Modified: GMOs and the Threat to Our Food, Our Land, Our Future
"Visionary and exacting, American Breakdown is a revolutionary guide for responding to chronic illness in an industrial society." — Katherine E. Standefer, author of Kirkus Prize Finalist Lightning Flowers: My Journey to Uncover the Cost of Saving a Life
"An absolutely beautiful book, and a life story that is all too familiar. How many brilliant books need to be written by patients suffering from these overlooked and undervalued illnesses before the medical community starts to pay attention? If there is any justice in the world, American Breakdown will be the tipping point." — Sarah Ramey, author of The Lady's Handbook for Her Mysterious Illness
"Blending theory and memoir, the author personifies her struggle for wellness and its associated costs and consequences. An alarming chronicle of catastrophic chronic illness and a passionate plea for health care reform." — Kirkus Reviews
"This is an important book not only about perseverance and determination but also about practical things (such as paying for medical bills one can't afford), and especially about gender bias in health." — Booklist (starred review)
"[A] rigorous cultural critique…compelling, detailed, and absorbing …The interwoven relationship between two women facing illness and treatment across centuries becomes the frame for an ambitious and deeply researched examination and contextualization of medicine and healthcare in the United States …[Lunden] argues for a redefinition of the American Dream [and] offers a way forward." — Washington Post
"Using the medical memoir as an entry point, the author has woven a complex story of industrialization, environmental degradation, capitalism, and the crumbling state of healthcare in the United States…. The book is epic in scope, but by using the parallels between her own story and that of Alice James, Lunden grounds her extensive research with an intimate tale." — Los Angeles Review of Books