Biscuit and Friends: A Day at the Aquarium (I Can Read Level 1) (Paperback)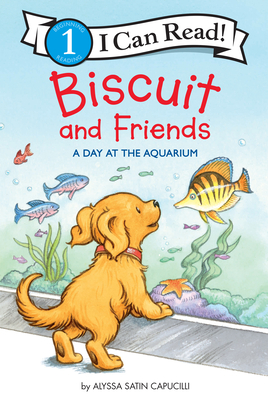 $5.99

Usually Ships in 1-5 Days
Description
---
Follow the beloved and bestselling little yellow puppy, Biscuit, on a trip to the aquarium. This Level One I Can Read allows readers to grow into reading with Biscuit!
When Biscuit takes himself to the aquarium, he sees fish of all different colors, sea turtles, large tanks of jellyfish, and even sea lions that bark just like him. Bark! Bark! Woof, woof!
Biscuit and Friends: A Day at the Aquarium is a Level One I Can Read with a Guided Reading Level (GRL) of J, which means it's perfect for children learning to sound out words and sentences. Whether shared at home or in a classroom, the short sentences, familiar words, and simple concepts of Level One books support success for children eager to start reading on their own.
For over 25 years Biscuit, the beloved little yellow puppy, has warmed the hearts of young readers. The sweet little yellow puppy is a comforting partner for your emerging reader who enjoys the My First level Biscuit stories and wants to keep reading! 
About the Author
---
Alyssa Satin Capucilli is the author of the first story about Tulip and Rex, Tulip Loves Rex, as well as the bestselling Biscuit books and many other beloved children's books. She lives in a book-filled home in Hastings-on-Hudson, New York.
Pat Schories's engaging illustrations of the puppy Biscuit are modeled on her own dog. In addition to having illustrated all the Biscuit books, she is also the artist and author of He's Your Dog and Mouse Around. Ms. Schories lives in Cold Spring, New York.