The Verdigris Pawn (Hardcover)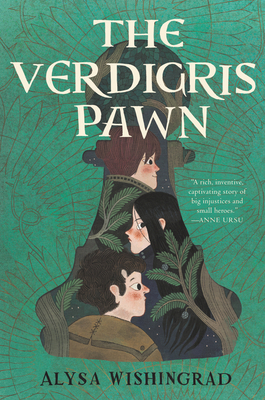 $16.99

Usually Ships in 1-5 Days
Description
---
A JUNIOR LIBRARY GUILD GOLD STANDARD SELECTION! 

A boy who underestimates his power . . .
A girl with a gift long thought lost . . .
A Land ready for revolution . . .
The heir to the Land should be strong. Fierce. Ruthless. At least, that's what Beau's father has been telling him his whole life, since Beau is the exact opposite of what the heir should be. With little control over his future, Beau is kept locked away, just another pawn in his father's quest for ultimate power.
That is, until Beau meets a girl who shows him the secrets his father has kept hidden. For the first time, Beau begins to question everything he's ever been told and sets off in search of a rebel who might hold the key to setting things right. 
Teaming up with a fiery runaway boy, their mission quickly turns into something far greater as sinister forces long lurking in the shadows prepare to make their final move—no matter what the cost. But it just might be Beau who wields the power he seeks . . . if he can go from pawn to player before the Land tears itself apart.
About the Author
---
Alysa Wishingrad writes fantastical stories for young readers, tales that ask; is the truth really true? Her favorite stories are those that meld the historical with the fantastic, and that find ways to shine a light on both the things that divide and unite us all. The Verdigris Pawn, a Junior Library Guild Gold Standard Selection, is her debut novel. Alysa lives in the Hudson Valley with her family and two demanding rescue dogs. You can find her at www. alysawishingrad.com or on Twitter at @awishingrad or Instagram at @alysawishingradwrites.
Praise For…
---
A rich, inventive, captivating story of big injustices and small heroes, The Verdigris Pawn nods to classic fantasy while asking questions deeply relevant to our world. A magical adventure that readers will adore. — Anne Ursu, author of The Lost Girl
Heartfelt, hopeful, and charming, The Verdigris Pawn is a deftly crafted tale that weaves adventure with purpose, beautifully illustrating how kids can change the world. — Heather Kassner, author of The Plentiful Darkness

The Verdigris Pawn is a wonderful escape, a tale of truth, trust, and doing what's right. Readers will delight in this fast-paced fantasy in which mistakes can be opportunities, power is not what it seems, and the seemingly helpless can have the greatest impact of all. A perfect debut for our times. — Diane Magras, award-winning author of The Mad Wolf's Daughter
With vibrant characters readers can't help but cheer for, Wishingrad's debut is a tribute to the beauty of both language and story. Filled with magic, suspense, and a shifting landscape of who is friend and who is foe, The Verdigris Pawn expertly explores the double-edged swords of power, loyalty and righteousness. A gorgeous and unforgettable book. — Rebecca K.S. Ansari, author of The Missing Piece of Charlie O'Reilly and The In-Between