Alexander at the End of the World: The Forgotten Final Years of Alexander the Great (Hardcover)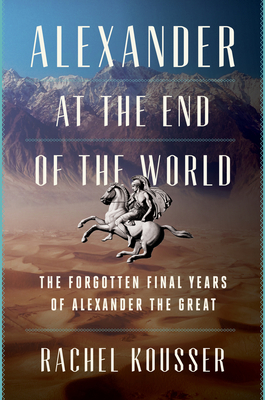 Description
---
A riveting biography of Alexander the Great's final years, when the leader's insatiable desire to conquer the world set him off on an exhilarating, harrowing journey that would define his legacy.  
By 330 B.C.E., Alexander the Great had reached the pinnacle of success. Or so it seemed. He had defeated the Persian ruler Darius III and seized the capital city of Persepolis. His exhausted and traumatized soldiers were ready to return home to Macedonia. Yet Alexander had other plans. He was determined to continue heading east to Afghanistan in search of his ultimate goal: to reach the end of the world.  
Alexander's unrelenting desire to press on resulted in a perilous seven-year journey through the unknown eastern borderlands of the Persian empire that would test the great conqueror's physical and mental limits. He faced challenges from the natural world, moving through deadly monsoons and extreme temperatures; from a rotating cast of well-matched adversaries, who conspired against him at every turn; and even from his own men, who questioned his motives and distrusted the very beliefs on which Alexander built his empire. This incredible sweep of time, culminating with his death in 323 BC at the age of 32, would come to determine Alexander's legacy and shape the empire he left behind. 
In Alexander at the End of the World, renowned classicist and art history professor Rachel Kousser vividly brings to life Alexander's labyrinthine, treacherous final years, weaving together a brilliant series of epic battles, stunning landscapes, and nearly insurmountable obstacles. Meticulously researched and grippingly written, Kousser's narrative is an unforgettable tale of daring and adventure, an inspiring portrait of grit and ambition, and a powerful meditation on the ability to learn from failure. 
About the Author
---
Rachel Kousser is the chair of the Classics department at the Graduate Center, City University of New York and a professor of ancient art and archaeology at Brooklyn College. Her most recent work, The Afterlives of Greek Sculpture: Interaction, Transformation, Destruction received an Archaeological Institute of America Publication Subvention Award and was shortlisted for the Runciman Book Award for a book on Greek history or culture. Professor Kousser is also the author of Hellenistic and Roman Ideal Sculpture: The Allure of the Classical. She has received fellowships from the National Endowment of the Humanities, the Getty Research Institute, and the Center for the Advanced Study of the Visual Arts.