TURBO Racers: Trailblazer (Paperback)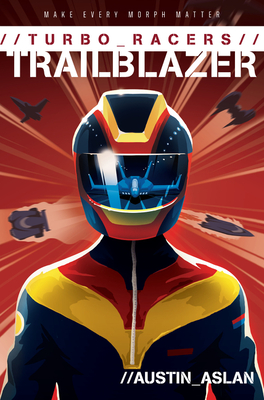 $7.99

Usually Ships in 1-5 Days
Other Books in Series
This is book number 1 in the TURBO Racers series.
Description
---
In Turbo Racers: Trailblazer, twelve-year-old Mace Blazer gets the chance to pilot a state-of-the-art vehicle that transforms at the touch of a button from race car to jet plane to single-person sub, in the biggest race in the world.
The roar of the crowd, the glow of the spotlight, the thrill of the race—Mace Blazer dreams of going TURBO.
TURBOnauts thrive on the thrum of trimorphers's rocket engines as the vehicles morph from super-powered race cars to speeding jet aircrafts to torpedo-fast submarines, while they race full-throttle around every bend. And Mace believes he's got what it takes to join their ranks—he only needs the chance to prove it.
So when a reclusive retired racer chooses Mace to try out to be part of the next generation of TURBOnauts, Mace knows that this is his moment to show what he can do. But the path to his big shot means facing down the best and the brightest from around the world. Mace will have to live more fearlessly, hone quicker reflexes, be revolutionary—but will it be enough?
Mace quickly realizes that everything he's ever hoped for comes at a price. He'll have to decide between what is right and what is easy. Every morph counts in the first book in this exhilarating new adventure series by the acclaimed author of The Islands at the End of the World, Austin Aslan.
This is the first title in a high-stakes middle-grade two-book series!
About the Author
---
Austin Aslan is the author of the TURBO Racers and the Islands at the End of the World books. Austin has a master's in conservation biology and was an ecotourism Peace Corps volunteer in a Honduran cloud forest. He resides in northern Arizona with his ecologist wife and two children and was recently elected to the Flagstaff City Council.
Praise For…
---
"Intense, impeccably paced, bonkers-awesome international race sequences provide clarity without sacrificing tension or becoming repetitive… With flash, spectacle, and tough character choices, an all-around, full-throttle read." — Kirkus Reviews
"The plot sets a pace so quick that readers will speed through it, with twists and turns as intense as those on a racetrack." — School Library Journal
"This new series opener from Aslan (The Islands at the End of the World, 2014) is an exhilarating read that doesn't compromise on fun in its exploration of integrity and friendship. Heartily recommended for fans of sf and sports books alike." — Booklist