Henry and the Clubhouse (Henry Huggins #5) (Hardcover)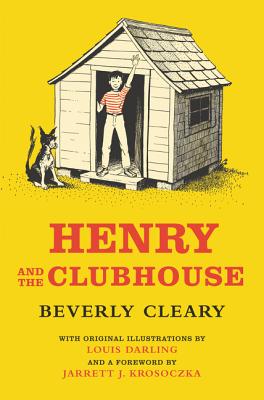 for information about purchasing this book, please contact orders@bookpassage.com
Other Books in Series
This is book number 5 in the Henry Huggins series.
Description
---
This special edition of Henry and the Clubhouse features the original illustrations by Louis Darling—the first artist to ever render Henry, Ribsy, Ramona, and Beezus—as well as a foreword written by New York Times bestselling author and illustrator Jarrett J. Krosoczka.
Fiery Ramona Quimby and the well-meaning Henry Huggins may clash, but in this delightful and hilariously told novel by Newbery Medal–winning author Beverly Cleary, an unlikely compromise wins the day.
Henry and his friends are building a no-girls-allowed clubhouse. With a private space of their own away from everyone else—and even a top-secret entry password—they're all thrilled with their boy fort.
But Henry's about to find out that nothing—not even a sign—will keep gutsy Ramona out of their clubhouse…and her retaliation may just ruin Henry's newspaper career.
About the Author
---
Beverly Cleary is one of America's most beloved authors. As a child, she struggled with reading and writing. But by third grade, after spending much time in her public library in Portland, Oregon, she found her skills had greatly improved. Before long, her school librarian was saying that she should write children's books when she grew up.
Instead she became a librarian. When a young boy asked her, "Where are the books about kids like us?" she remembered her teacher's encouragement and was inspired to write the books she'd longed to read but couldn't find when she was younger. She based her funny stories on her own neighborhood experiences and the sort of children she knew. And so, the Klickitat Street gang was born!
Mrs. Cleary's books have earned her many prestigious awards, including the American Library Association's Laura Ingalls Wilder Award, presented to her in recognition of her lasting contribution to children's literature. Dear Mr. Henshaw won the Newbery Medal, and Ramona Quimby, Age 8 and Ramona and Her Father have been named Newbery Honor Books. Her characters, including Beezus and Ramona Quimby, Henry Huggins, and Ralph, the motorcycle-riding mouse, have delighted children for generations.
Louis Darling was an illustrator, writer, and environmentalist who was born and lived most of his life in Connecticut. His illustrations filled the pages of Beverly Cleary's books until his death in 1970. His work is celebrated and immortalized by generations of fans.